About the HS2 Programme
HS2 is a hugely complex large-scale infrastructure programme. This page provides the context for the HS2 Learning Legacy, including a brief history of the London to Birmingham line, the three phases of HS2 and the delivery framework.
About HS2
HS2 is Britain's new high-speed, low-carbon railway, designed to increase capacity on the national network and help rebalance the economy. HS2 is transformative: it is Europe's biggest infrastructure project and has already supported 16,000 jobs. The Project, which is being delivered by HS2 Ltd, is set to support 22,000 jobs during construction of the Phase One route between London and the West Midlands. Phase 2a will extend HS2 to Crewe and Phase 2b will take the railway to the North.
History of the Railway
In 1838, when the first trains started running between London and Birmingham, the 112-mile journey took more than five hours. In 2038, two centuries later, High Speed Two trains travelling up to 225mph will take passengers between the same two points on a map in just 45 minutes. The technology has changed radically since the reign of Queen Victoria, with electricity and aerodynamics replacing steam and pistons. Yet there are common threads that unite these landmark railway projects of the 19th and 21st centuries.
HS2, like its predecessor, the London and Birmingham Railway, is at its heart an economic project. The trains, the tracks, the tunnels and the speed are enablers of economic growth. Speed is not an end in itself; it is an agent for change. Time after all is a precious commodity and high-speed travel raises the possibility of "buying" time. If we spend less time travelling – in trains, cars or buses – we have more time to work, to socialise, to live and to flourish. With 345 miles of high-speed track extending to Crewe, Leeds and Manchester, and integrating with the classic network, HS2 will serve more than 25 stations including Glasgow and Edinburgh in Scotland, Liverpool in the North West and Newcastle in the North East.
The national scale of HS2 means opportunity will be unlocked across the country, particularly in the cities and towns of the Midlands and the North. Alongside other projects such as Northern Powerhouse Rail and Midlands Connect, HS2 will help to realise the long-held ambition of rebalancing the British economy, combatting stark regional inequalities in productivity and opportunity that are in part due to rail infrastructure designed for a different age. HS2 will be the backbone on which this transformation will be built, helping Britain to unshackle itself from the last millennium and build anew.
The conception of HS2 began at the turn of the 21st century as population growth and economic expansion was putting the rail network, largely built in the 19th century, under huge strain. A decade after rail privatisation in 1997, passenger journeys soared to 1.13 billion – a 40% increase over a decade before [1]. According to Network Rail at the time, "all credible current projections point to similar growth over the next decade". Iain Coucher, Network Rail's chief executive, argued: "By 2025 many lines will be full up, especially those running to and from the north and west of London." [2]
Major infrastructure investments to address overcrowding included the £8.76 billion modernisation of the West Coast Main Line between London and Edinburgh via Birmingham, which was completed in 2009 [3].
However, such interventions were part of the traditional strategy of patching and mending the old infrastructure. They were not going to deliver a transformative, long-term solution for the congested network. The concept of high-speed rail in Britain was part of public discourse due to the ongoing development of High Speed 1 (HS1), a high-speed rail line connecting London with the Channel Tunnel. A study commissioned by the Strategic Rail Authority and conducted by Atkins concluded in February 2003 there was a both a business case and a transport case for a high-speed line between London and the North [4]. This was followed in 2009 by Network Rail's 'New Lines Study' which concluded that the building of a new line was the best answer to providing significant new capacity and that "the strongest and best case was made by making the new line capable of carrying high speed trains." [5]
In January 2009, the Government formed High Speed Two Ltd (HS2 Ltd) to consider the case for new high-speed services from London to Scotland including to develop a proposal for an entirely new line between London and the West Midlands. HS2 Ltd reported its findings in December 2009, and the Government formalised the project in March 2010, publishing a Command Paper 'High Speed Rail' [6]
that proposed a core high-speed rail network linking London to Manchester and Leeds via Birmingham. HS2 services would connect directly to other cities in the North and Scotland. Connections to the West and East Coast main lines would enable services to reach additional destinations on the conventional network without passengers having to change trains.
After a decade of design, planning, consultation and securing powers from Parliament, HS2 is being built. For Phase One, which will run between the West Midlands and London, the digging of tunnels, the building of viaducts, the laying of tracks, the delivery of trains and the first live trials lie in the immediate future. Phase 2a, which extends the route to Crewe, achieved Royal Assent from Parliament in March 2021 and enabling works have begun. The Government is considering how best to integrate Phase 2b, which takes the line to Manchester and Leeds, with Northern Powerhouse Rail, the Midlands Rail Hub and other projects to deliver benefits more quickly and efficiently as part of an Integrated Rail Plan for the North and Midlands. In the meantime, HS2 Ltd is proceeding with legislation for the western leg of Phase 2b, which extends the railway to Manchester. A hybrid Bill for the western leg is set to be submitted in early 2022.
The scale of HS2 over-shadows all other national programmes of work in Europe. In recounting the achievements and future challenges of HS2, the term "biggest ever" is frequently used. Much of what has been achieved has meant operating in uncharted territory in terms of design, planning, project management, procurement, environmental practice, public engagement and many other areas of public policy. HS2's team has set new technical standards – from digital engineering, to future-proofed design and engineering, to the environmental mitigations and innovations.
HS2: phased delivery of the high-speed rail network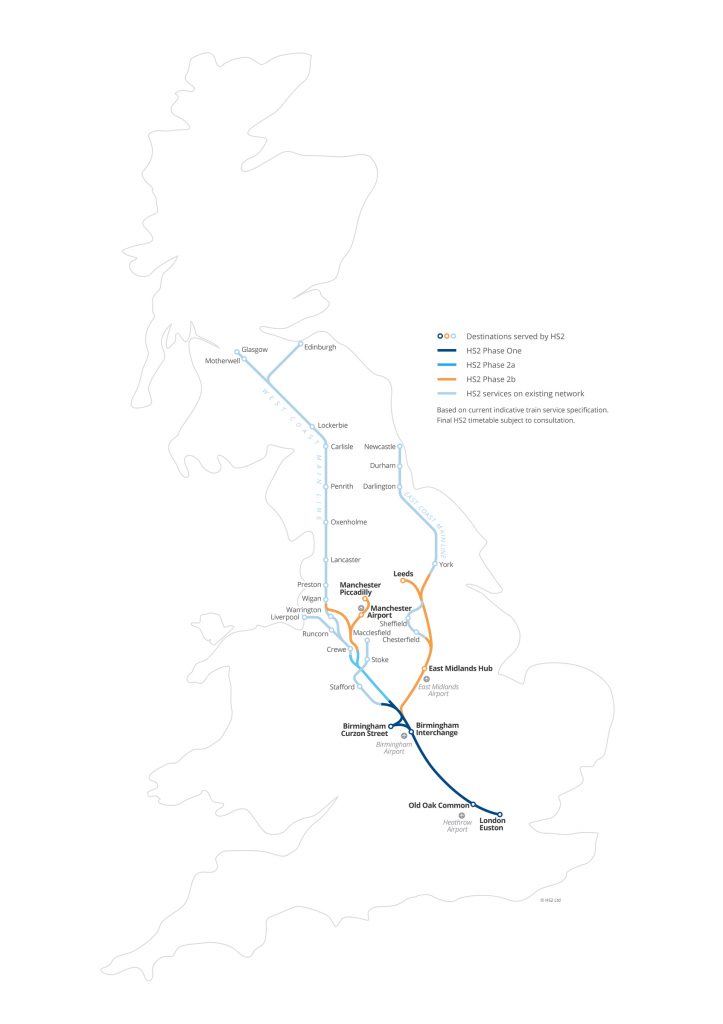 Phase One
The 140-mile Phase One route between London and the West Midlands is being built as the first part of the national high-speed rail network. Construction teams are building hundreds of bridges and viaducts, and creating earthworks for 85 miles of cuttings and embankments. HS2 trains will pass through 32 miles of tunnels between Birmingham and London, delivering quicker journeys and providing more seats. Four new HS2 stations are being built. Phase One has a funding envelope of £35 billion to £45 billion and will open between 2029 and 2033. Notice to Proceed for main works construction was issued in April 2020, marking the point where the Project moved from scheme design and preparatory work to full detailed design and construction. The first tunnel boring machines for the 10-mile Chilterns tunnel began operating in May 2021.
Phase 2a
The Phase 2a line will extend HS2 from Fradley in the West Midlands to Crewe in Cheshire. The 36-mile route includes two tunnels, 17 viaducts, 65 bridges and 36 embankments.
Services will travel onward from Crewe to places like Manchester, Liverpool, Wigan, Preston and Glasgow. The hybrid Bill for Phase 2a received Royal Assent in March 2021 and the first contracts for early environmental works have been signed.
Phase 2b
Phase 2b forms a Y shape, split into proposed western and eastern legs. The western leg will connect to the high-speed lines at Crewe and run through to Manchester. The proposed eastern leg will connect to high-speed lines in the West Midlands and run through to Leeds. By integrating into the existing East and West Coast main lines, services will also travel onward to places like Glasgow, Edinburgh, Liverpool, Preston, Carlisle and Newcastle. The Government is considering how best to integrate Phase 2b with Northern Powerhouse Rail, the Midlands Rail Hub and other projects as part of an Integrated Rail Plan for the North and Midlands. HS2 Ltd is preparing a hybrid Bill for the western leg to Manchester.
Design and Delivery Framework
The diagram below and subsequent sections set out the organisational structure of the enabling works, main works civils, and main works stations delivered by Integrated Project Teams (IPTs) and Joint Venture (JV) organisations with HS2 Ltd as the client organisation.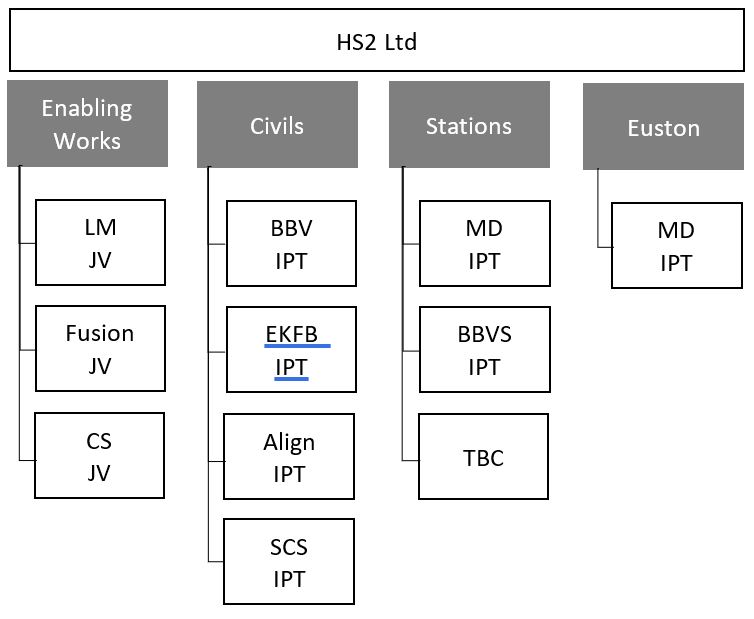 HS2 Ltd
High Speed Two Limited (HS2 Ltd) is responsible for developing and promoting the UK's new high-speed rail network. It is funded by grant-in-aid from the Government. HS2 Ltd is an executive non-departmental public body, sponsored by the Department for Transport.
The company is responsible for procuring and bringing together a supply chain of designers and contractors to deliver billions of pounds worth of contracts, to build, maintain and operate HS2. The company must demonstrate compliance with the requisite technical, safety and environmental standards at all times.
Phase One Enabling Works Contractors
The Phase One Enabling Works Contractors were responsible for preparing the route between the West Midlands and London, ready for the Main Works Civils Contractors to begin building the railway. Phase One enabling works were split into three lots covering the South, Central and North areas of the route, with joint ventures undertaking site preparation works.
As well as archaeology, site clearance and establishing site compounds, enabling works delivered a range of activities including utility diversions, ecology surveys, demolition, ground remediation, watercourse works, highways realignments, monitoring and instrumentation, structural reinforcements and drainage work.
| | | |
| --- | --- | --- |
| | Enabling Works Contractors | HS2 Contracts |
| CSjv | Costain Group PLC; Skanska Construction UK | Area South |
| Fusion JV | Morgan Sindall Construction & Infrastructure Ltd, BAM Nuttall Limited, Ferrovial Agroman (UK) Limited | Area Central |
| LMJV | Laing O'Rourke Construction Limited, J Murphy & Sons Limited | Area North |
Joint venture organisations delivering the Enabling Works Contracts
Phase One Main Works Civils Contractors (MWCC)
Integrated Project Teams (IPTs) enable integrated delivery and greater collaboration between Main Works Civils Contractors (MWCC) Joint Ventures, Design Joint Ventures (DJVs) and HS2 Ltd. IPTs have been established to deliver works, with clear accountability between client and contractor.
Each IPT is a single, co-located organisation. They are unified with one leader and empowered to make informed, high-quality and timely decisions to achieve aligned objectives. A consistent operating structure underpins each of the four IPTs. However, each is different in scope, risk profile and location.
The MWCCs are the delivery vehicle for the civil engineering works for Phase One. The contracts are split into two-stage, design and build. The Stage 2 contracts feature the delivery of the civil engineering construction works, following award of the formal Notice to Proceed (NtP) on 14 April 2020. The diagram below shows the geographical marquation of their works whilst the table sets out the organisations involved in each IPT and their contracts which provides context for the papers included in the learning legacy.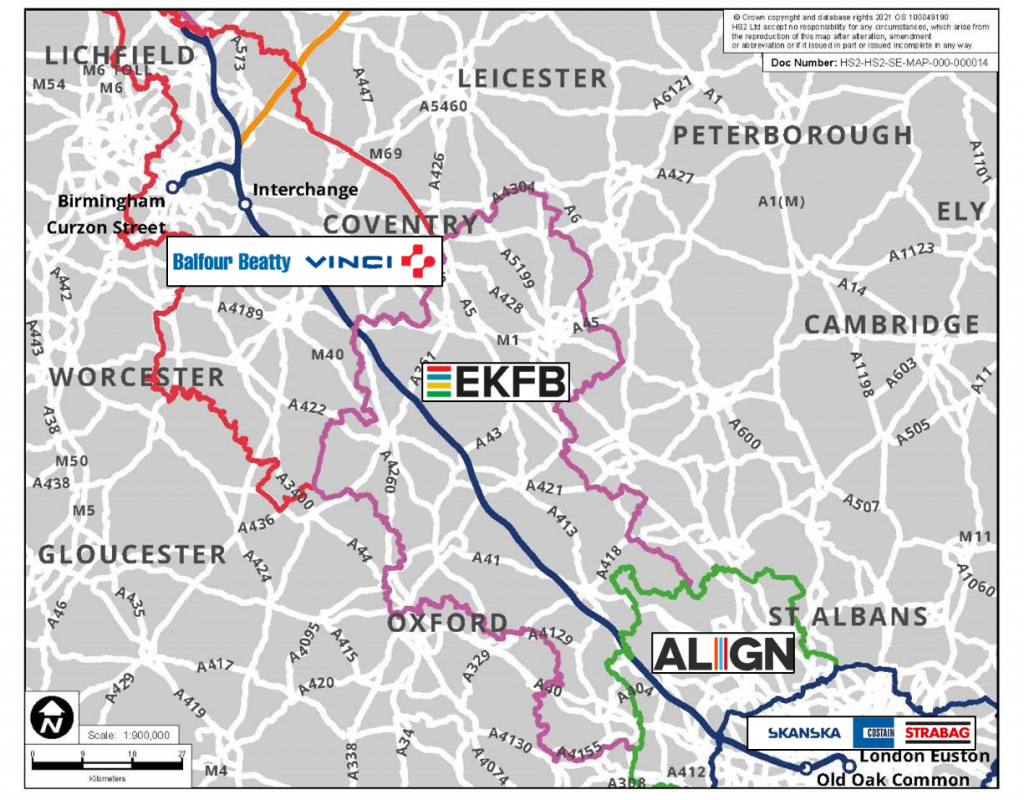 Integrated Project Teams (IPTs)
MWCC JVs
DJVs
HS2 Contracts
BBV IPT
Balfour Beatty Group Ltd; Vinci Construction Grands projects; Vinci Construction UK Ltd; Vinci Construction Terrassement
Mott MacDonald; Systra
Lots N1 and N2 (Area North including Long Itchington Wood Green Tunnel to Delta Junction and Birmingham Spur and the Delta Junction to the West Coast Main Line (WCML) tie-in)
EKFB IPT
Eiffage Geni Civil SA; Kier Infrastructure Oversees Ltd; Ferrovial Agroman; BAM Nuttall
Arcadis; COWI; Sedec
Lots C2 and C3
(Central Section including the North Portal Chiltern Tunnels to Brackley and Brackley to South Portal of Long Itchington Wood Green Tunnel)
Align IPT
Bouygues Travaux Publics; Volker FitzPatrick; Sir Robert McAlpine
Jacobs and Ingerop
Lot C1 (Central Section including the Colne Valley Viaduct and Chiltern Tunnels)
SCS IPT
Skanska Construction UK Ltd; Costain Ltd; Skabag AG
Arup and Typsa
Lots S1 and S2 (Area South including the Northolt Tunnels and the Euston Tunnel and Approaches)
Integrated Project Teams delivering the four main works civils contracts
Phase One Main Works Stations Contractors (MWSC)
Phase One Stations is made up of four stations and an automated people mover, which is described below.
Euston
HS2's London terminus integrates high-speed rail connections with conventional rail. High-speed trains will eventually increase the number of peak-time seats out of Euston from 12,100 to 31,200. HS2 Ltd is working with Lendlease, the Master Development Partner for London Euston station, to integrate designs with the requirements of Network Rail and Transport for London to enable comprehensive redevelopment of the Euston estate. This will optimise the new space above the station and tracks and realise opportunities for regeneration of the wider area.
Old Oak Common
This 14-platform rail super-hub in west London features six platforms for HS2 and eight platforms for conventional services, with connections to the Elizabeth Line, the Heathrow Express and the Great Western Mainline. HS2 Ltd is working with the Old Oak and Park Royal Development Corporation (OPDC) on an ambitious vision for the surrounding area – the largest regeneration project in London.
Interchange
Interchange is a four-platform 'through' station with links to Birmingham Airport, Birmingham International station and the NEC. It will be a catalyst for regional economic growth in the Solihull area. Interchange is first station in the world to gain an 'outstanding' BREAAM rating at design stage.
Automated People Mover
A 2.3km automated people mover will provide fast and frequent connections between Interchange station and Birmingham Airport in just six minutes.
Curzon Station
HS2's seven-platform terminus in Birmingham is a key part of regeneration plans for the city centre around Curzon Street, including potential links to the local tram network.
Euston and Old Oak Common Station Construction Partners
The JV and DJV supply chain partners that form the IPT for Euston and Old Oak Common, alongside HS2 Ltd, are as follows.
| | | | |
| --- | --- | --- | --- |
| Station | JV | DJV | Contracts |
| Euston IPT | Mace Dragados (MDJV) | Ove Arup & Partners International Limited (working with Grimshaw Architects LLP) | S3 |
| OOC IPT | Balfour Beatty Group Ltd, VINCI Construction UK Ltd, VINCI Construction Grands Projects SAS and SYSTRA Ltd (BBVS JV) | WSP UK Limited (working with Wilkinson Eyre Architects Limited) | S4 |
Integrated Project Teams delivering the Main Works Stations Contracts for Euston and Old Oak Common
Curzon and Interchange Stations Contracts
Curzon Street and Interchange stations and the Automated People Mover (APM) are procuring Main Works Stations Contractors (MWSC) and will co-create their IPTs with their respective MWSC once appointed.
| | | | |
| --- | --- | --- | --- |
| Station | Construction Partners | Design Partners | Contracts |
| Curzon Street | Mace Dragados (MDJV) | WSP UK Limited (working with Grimshaw Architects LLP) | N4 |
| Interchange & APM | MWSC award June 2022 APM Contract award 2024 | Ove Arup & Partners International Limited (working with Arup Associates and Wilkinson Eyre Architects Limited) | N3 |
Organisations delivering the Main Works Stations Contracts for Curzon Street and Interchange and the automated people mover
Phase 2a design contracts
The ERD+ team contains a mix of expertise from across all 3 consultancy organisations and works as an integrated delivery team with HS2. It is led by a blended senior leadership team from the consultants who are accountable for owning the ERD+ scope and delivery.
| | | | |
| --- | --- | --- | --- |
| | Construction Partners | Design Partners | Contracts |
| Phase 2a Employer's Requirements Design (ERD) | N/A | WSP UK Limited, Arup, Atkins, Jacobs, Sener (working with Grimshaw Architects LLP) | ERD+ |
| Phase 2a Early Works | N/A | Balfour Beatty | EEW (Early Environmental Works) |
Organisations delivering the Phase 2a design and early works
Phase 2b design contracts
HS2 employs the below consultants to develop and assess the proposed Phase 2b Crewe to Manchester Scheme. The Civil Design and Environmental services (CDES) team focusses on the development and environmental assessment of all civils and environmental works, whilst Railway Systems Application Design Services (RSADS) develop the design of all associated railway systems and ensure the operability of the proposed Scheme. The two consultants work collaboratively under HS2's oversight to produce a fully configurated design in accordance with the Development Agreement. EOC (Environmental Oversight Consultant) play a key role in the production of the environmental assessment and work closely with CDES and RSADS to ensure its validity and quality. Balfour Beatty have been awarded the contracts for the early Ground Investigation (GI) work packages and work closely with CDES to ensure the scope of works aligns with HS2's aspirations.
| | | | |
| --- | --- | --- | --- |
| | Construction Partners | Design Partners | Contracts |
| Hybrid Bill development | n/a | Civil Design and Environmental services (CDES) Mott MacDonald/ WSP Joint venture | P2b- Crewe to Manchester: 2DE01 (up to hB), 2PT24 for AP1. Contract codes for later APs TBD |
| Hybrid Bill development | n/a | Railway Systems Application Design Services (RSADS) WSP | P2 – Both eastern and western legs: 2RS02 (up to hB), 2PT25 for AP1. Contract codes for later APs TBD |
| Hybrid Bill development | n/a | EOC (Environmental Oversight Consultant) Arup+ (Arup, Foster+Partners, Jacobs, Ramboll, Typsa, Costain) | P2 – Both eastern and western legs: 2EV01 |
| GI WP1b and WP2b | Balfour Beatty | Balfour Beatty | P2b- Crewe to Manchester: 2G005 for WP1b and 2G007 for WP2b |
Organisations delivering the Phase 2b hybrid bill design and ground investigation
References
Network Rail press release (23 June 2008)
https://www.networkrailmediacentre.co.uk/news/meeting-the-capacity-challenge-network-rail-looks-at-the-case-for-new-rail-lines
Ibid
Network Rail Consulting, "West Coast Route Modernisation" https://www.networkrailconsulting.com/our-capabilities/network-rail-projects/west-coast-route-modernisation/
High Speed Line Study, Atkins (2003)
https://webarchive.nationalarchives.gov.uk/+/http:/www.dft.gov.uk/pgr/rail/researchtech/research/hspeedlinestudysummaryreport.pdf
Meeting the capacity challenge: the case for new lines, Network Rail (2009), p2
"High Speed Rail" (11 March 2010)
Find out more
Visit the HS2 website at www.hs2.org.uk and follow us on our social media channels:
https://twitter.com/HS2ltd
https://www.facebook.com/HS2ltd
https://www.linkedin.com/company/high-speed-two-hs2-ltd
https://www.instagram.com/HS2ltd