About Learning Legacy
The HS2 Learning Legacy is the collation and dissemination of good practice, innovation and lessons learned from HS2 aimed at raising the bar in industry, improving UK productivity and showcasing UK PLC.
The HS2 Learning Legacy builds on previous major projects' learning legacies including the Crossrail Learning Legacy, Thameslink Learning Legacy and the London 2012 Learning Legacy and contributes to an overall body of knowledge on major projects captured on the Major Projects Knowledge hub.
The HS2 Learning Legacy aims to share:
Knowledge and insight gained during the lifetime of the Programme that may be of benefit to future projects and programmes
Documents and templates that have been used successfully on the Programme that can be 'borrowed with pride' by other projects
Datasets that can inform future research projects
The experts behind the delivery of the HS2 Programme
Capturing Learning Legacy Content
Learning legacy content is captured through a series of learning legacy challenges which issue an open call to the whole HS2 family for papers and other resources on themes and topics which are relevant to large infrastructure projects. A forward look of Learning Legacy challenges up to 2026 is shown in Figure 1 below which allows for four challenges (Technical Papers Competition, Safe at heart, tailored challenge for different phases of the programme and an environment challenge) every two years. Each Learning Legacy challenge has a business sponsor who chairs a panel of HS2 and IPT representatives that provide expertise and oversight of each challenge. Additionally a targeted programme of strategic insight also aims to capture the client-side insight in case studies which will be of interest to other clients.
HS2 runs four challenges every two years which captures content from across the HS2 family on aims to publish content twice a year. This first tranches focuses on sharing technical excellence and learning. The second tranche in the Spring 2021 will focus on lessons learned, good practice and innovation on health, safety and wellbeing, whilst the third tranche will be on Programme Management and People. This will then be an annual cycle sharing learning across all 14 themes.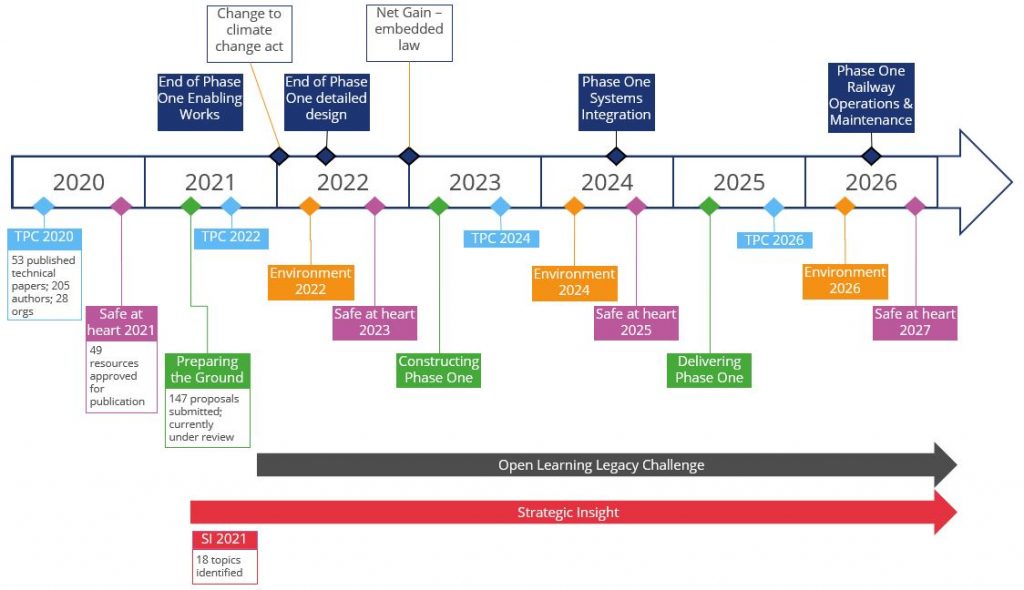 Challenge Key:
Technical Papers Competition (TPC) captures content on technical excellence and learning
Safe at heart learning legacy challenges capture lessons learned, good practice and innovation on health , safety and wellbeing
Environment learning legacy challenges capture lessons learned, good practice and innovation on environment
Preparing the Ground learning legacy challenge captures learning, good practice and innovation from the early works prior to the commencement of main works
Constructing Phase One learning legacy challenge captures learning, good practice and innovation from the construction of the main works civils and stations works on Phase One
Delivering Phase One learning legacy challenge captures learning, good practice and innovation from the systems integration
Strategic Insight are thematic case that capture strategic learnings and good practice from HS2 Ltd
As at September 2021, two challenges – Technical Papers Competition 2020 and the Safe at heart Learning Legacy Challenge 2021 – have been completed to date with a third in progress – Early Works Learning Legacy challenge.  This has led to over 100 publication-ready learning legacy resources  and a further 130 proposed resources currently accepted for drafting.  This includes contributions from more 200+ authors across 30+ organisations across the Enabling Works Contract, Main Works Civils Contract, Main Works Station Contracts and associated design joint venture organisations, many of which are collaborative papers with HS2 Ltd and academic partners.
Contributing to the Learning Legacy
If you have worked on the HS2 project and have a learning legacy to share then please read the guidance on how to submit a Learning Legacy paper or other resource,
Publication
Website
Learning legacy content will be published on this website every 6 months, at the end of each learning legacy challenge. The website has been designed to be simple and easily searchable with clear filters and a high quality search engine.
Print
Printed publication is in the form of books and journals published with industry partners appropriate to the content.  For example, the technical papers approved as part of the Technical Papers Competition will be published by the Institution of Civils Engineers which reflects the focus on civil engineering at this stage in the HS2 programme.  Content may also be published in professional journals (see below).
API
The website also has an API which is an Application Programme Interface and enables third party knowledge hubs (such as the Major Projects Association) to interface to the HS2 learning legacy content enabling discoverability of HS2 content through their portals. Please contact [email protected] if you would like details on the API.
Dissemination
Dissemination is the active sharing of knowledge to interested parties. For the HS2 Learning Legacy this is through industry partnerships, knowledge sharing agreements with other major projects, academic engagement and Government engagement (from a UK PLC perspective).
Industry Partners
The HS2 learning legacy is a collaboration with industry partners such as professional associations and industry bodies and includes a series of knowledge sharing events and publication of a number of professional journals. Below are the industry partners signed up to date.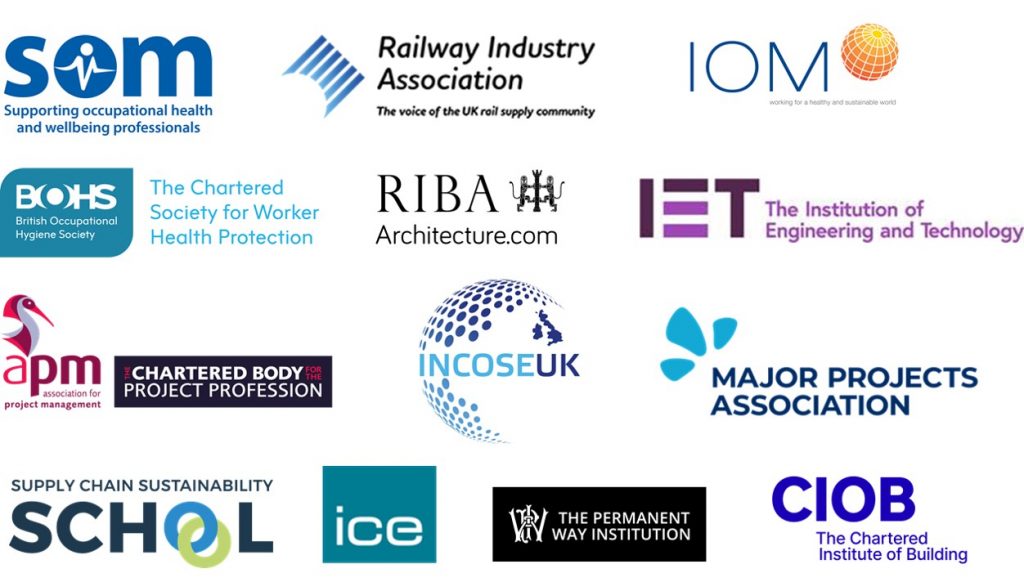 If you are interested in becoming an industry partner please contact [email protected].
Guidance for industry partners on how to request a speaker from the HS2 Learning Legacy Network for an event or to publish content in industry publications.
Users
This material is shared for use by other major projects and is relevant to clients, corporates, and suppliers from main contractors to small and medium enterprises. It will be of particular interest to the transport and construction sectors however much of the learning legacy will be applicable to other sectors.