Communicating impactful works to stakeholders and communities
The learning legacy of this activity is that collaborative working with relevant local authority and transport partners is now an expectation set out by HS2 for all contractors operating in Area North when delivering impactful highways works and installing major structures.
EWC has demonstrated that such collaborations ensure that the greatest number of people can plan their journeys effectively, therefore helping to minimise road disruption during impactful works and enhance the project's reputation in the process.
Understanding the successes and learnings of the development of this best practice is of interest to all contractors operating in Area North to enable them to communicate impactful works to the standards now expected by HS2. It is also of interest to local authorities and transport bodies, impacted by HS2 highways works, to understand what types of collaborative working can effectively minimise impact on local stakeholders and road users.
Written by

Resource type

Intended audience

Contractors
Leadership Teams
Public Sector Clients

Tags
Background and industry context
Laing O'Rourke and J. Murphy & Sons Ltd (LM) is the Enabling Works Contractor (EWC) on the northern section of High Speed Two (HS2) Phase One.
To ensure that the local road network is fit for purpose when the future HS2 Interchange Station is operational in Solihull, EWC is remodelling and improving the existing network and creating new routes on HS2 land. As part of this programme, in 2020 two highways bridges were installed near Interchange over sections of the M42 and A446 to connect the new road network being created with existing routes.
The first of these new bridges was installed over the M42 in August 2020 and then a second bridge over the A446 in October 2020. Both bridge installations required weekend closures of key roads and significant diversions along routes owned by Highways England (HE) (now National Highways) and Solihull Metropolitan Borough Council (SMBC). Additionally, in this area there are several other road schemes being undertaken by organisations including National Highways.
When large-scale, impactful project activities are undertaken, it is not uncommon for stakeholders and communities to presume that they will be delivered in isolation, not taking into consideration other development activities and players nearby. Such presumptions can lead to poor public perception of how those impactful works will be undertaken, and the organisations delivering them, before work even starts. Such negativity can also be used to criticise those delivering the works for any real or perceived errors in the lead up or during delivery.
For the installation of the highways bridges, EWC wanted to raise awareness among the greatest number of stakeholders, communities and road users to minimise disruption and demonstrate partnership working with key local authorities and regional transport bodies to avert poor public perception. The M42 closure comms and engagement plan is shared for others to adapt and use.
Approach
Before each weekend road closure, EWC worked alongside HS2, Transport for West Midlands (TfWM), HE and SMBC for several months to produce two easy-to-use toolkits. These included various pre-written communications materials, imagery and URL links that could be utilised for different platforms (digital and print) by stakeholders and communities to promote the closures among their own stakeholders. The toolkits also included suggested content distribution timelines, HS2, EWC and HE contact details and other resources and links for further support.
Well in advance of the closures, all partners distributed the toolkits to their regional and national customers and users via existing communications channels to enable the greatest number of people to plan their journeys effectively. This was a significantly greater number than those that could have been reached via LM and HS2 channels alone. Most importantly, the toolkits were jointly branded between HS2, LM, TfWM, SMBC and HE, using TfWM's successful and widely recognised 'disruption' branding. This approach emphasised to the public that the weekend closures had been planned in collaboration with all relevant partners to minimise the impact on road users.
To ensure that any public correspondence directly with partners related to the weekend closures was consistent, thorough briefings sessions in advance of the closures were held with the HS2 Helpdesk and HE customer service teams. The briefings included information on the works, the innovative construction methods being utilised on the project and the communications plan and key activities that could result in an increase in public enquiries (e.g. press release and media event).
The toolkits were also shared with the customer service and Helpdesk operators to provide them with the tools needed to answer enquiries correctly and consistently. This approach ensured that when members of the public contacted either HE or HS2, they received the same information. This further demonstrated the collaborative working between the two organisations and the high professional standards of the LM delivery team.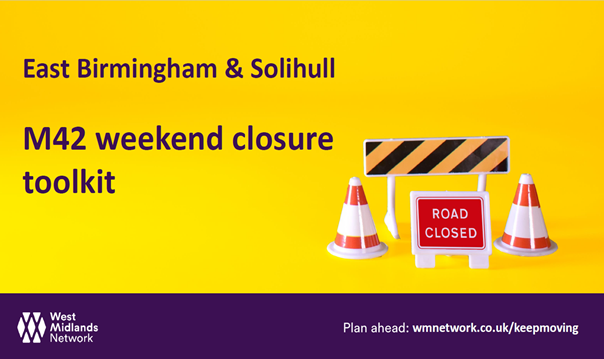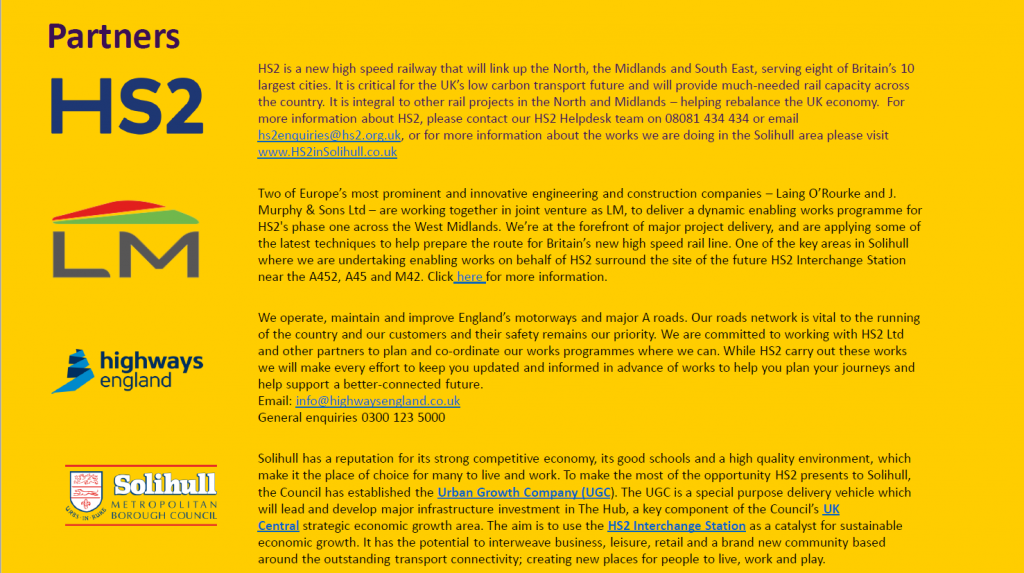 Outcomes and learning
There were several positive outcomes because of the approach taken. Firstly, the approach successfully enabled the greatest number of people to plan their journeys effectively and minimised road disruption during the closures. This was evidenced by the low traffic flow interfacing with the closures and diversion routes, which resulted in minimal tailbacks and delays on each occasion.
This therefore suggests that the information provided prior to the closures was absorbed, understood and actioned by many road users. Working with partners months in advance of the closures was key to this because it gave all parties the opportunity to agree on the best approach, navigate approval processes and distribute high quality materials well in advance of the closures.
This approach was demonstrably successful because the number of enquiries received by the HS2 and HE customer service and Helpdesk teams was very low considering the scale and complexity of the closures. These rates of enquiries were also low in comparison to similar projects undertaken previously.
In the lead up to the M42 closure, 12 enquiries and one complaint (not valid) were received by the HS2 Helpdesk and nine enquires by the HE customer service team. In the lead up to the A446 closure, only two enquiries were received by the HS2 Helpdesk, one being complimentary of the communications provided, and none were received by the HE customer service team.
This approach was also validated by the complimentary feedback provided by the HS2 and HE customer service and Helpdesk operators in response to their briefing sessions. For example, Alec Orange (Change and Business Support Manager, HE) commented in relation to the M42 closure briefing session:
"Thank you once again for taking the time to provide the presentation. As mentioned right at the end… I thought it was incredibly useful. Overall, the presentation provided great detail on the works. Sharing the detail using 'walk throughs' and really engaging visuals is so much more impactful and as a result much easier to understand the works. Explaining the thorough process of why we have chosen the dates we have, in addition to the great innovation of completing these works over 1 weekend will help us actually 'champion' the works instead of defending them. Thank you once again!"
As a result of these outcomes, this approach has been adopted by HS2 as the best practice approach to working with partners to deliver highways disruption campaigns. HS2 has created two documents Guidance for working with Transport for West Midlands and Highways England on highway disruption campaigns and Guidance for communications and engagement on HS2 highway disruption campaigns that provide guidance to all contractors operating in Area North on how to deliver a communications campaign for impactful highways works, using the M42 and A446 weekend closure approach as an example of best practice, and a process to follow to be successful.
Therefore, the learning legacy resulting from EWC's approach is now helping other contractors deliver best practice engagement and communications on future projects. This not only has a positive impact on maintaining HS2's reputation as the project progresses but helps to ensure that schemes are delivered on time, on budget and in scope because stakeholder and community opposition and dissatisfaction are significantly reduced.
Recommendations
HS2, LM and HE held a Lessons Learnt Review session, following the M42 bridge installation in September 2020, to identify additional learning for future projects and help other contractors repeat the success of this approach. In addition to the highways disruption campaigns approach now standardised by HS2, other learnings to be considered for future projects include:
Ensure information relating to potential high-profile visitors, such as ministers and MPs, attending project sites is organised as far in advance as possible to avoid last-minute pressures on the delivery team.
Ensure all traffic management aspects, such as start and completion times, are accurate, consistent and understood by all parties.
Ensure all relevant teams are consulted on the potential impacts of protesters and develop strategies in advance to enable effective management if required, including contingency communications materials.
Ensure that site visitor numbers are reasonable and controlled to avoid overburdening the delivery team. For example, separate viewing areas for different parties may be useful.
Partners should work several months plus in advance of major highways disruption to navigate approval processes and accommodate team arrangements, such as annual leave, to produce the highest quality materials and distribute them in good time before the works start.
The lead contractor should produce a master engagement and communications spreadsheet to be used by all parties identifying who is communicating and distributing what content to whom, and when.
Ensure that 'successful project completion' communications materials are also prepared in advance for promotion after the event.
Hold Lessons Learnt Review sessions after impactful schemes to identify how delivery and communications approaches can be improved, and share that learning with relevant partners, contractors and clients.
Conclusion
Collaborative working with relevant partners is now an expectation of all contractors operating in Area North when delivering impactful highways works and installing major structures. These collaborations are expected to ensure that the greatest number of people can plan their journeys effectively, so helping to minimise road disruption during impactful works and enhance the project's reputation in the process.
This approach was praised by internal colleagues and external partners and was also successful in minimising frustration and complaints from road users. As well as it now being promoted formally by HS2 among contractors across Phase One teams, it is recommended that future projects prepare engagement and communications well in advance of impactful works to ensure that all considerations are taken to develop delivery improvements on each occasion.
Acknowledgements
Fiona Woolston, LM Engagement Manager
Katrien Goossens, LM Community Engagement Lead
Nick Field, LM Project Manager
Richard Fairhurst, LM Senior Project Manager
Rachel Johnson, HS2 Senior Community and Stakeholder Engagement Manager
Pippa Whittingham, HS2 News Desk Lead
Matt Finn, HS2 Manager, Community Content and Channels
Filippa St Aubin d'Ancey, HE Senior Stakeholder Manager (HS2 Phase 1 Delivery Team)
Louise McCann, SMBC Communications Manager
Tom Slater, SMBC Communications Manager
Rachel Evans, TfWM Travel Choices Specialist
Chloe Williams, TfWM Travel Demand Manager
Aimee Dyer, TfWM Communication and Engagement Specialist
Rachel Foy, TfWM Communications and Engagement Manager
Jenny Corbett, TfWM Communication and Engagement Specialist
Supporting Materials
---