Consents – small steps, big change
At the start of the High Speed Two (HS2) Enabling Works Contract (EWC), there was a requirement to swiftly instruct consultants to gain consents, expediting the priority works.
A desire to upskill people, leave a legacy for Costain Skanska joint venture (CSjv) and provide value for money for HS2 were the drivers to create an in-house Consents Team supplemented by consultants. This paper demonstrates the value in creating in-house capability to contractors who have a responsibility to gain consents. It will be of interest to other projects and programmes looking to develop in-house expertise within the construction industry.
Written by

Resource type

Intended audience

Contractors
Leadership Teams
Background and industry context
Traditionally on large infrastructure projects, the consents components are generally managed directly by the client or outsourced to consultants. The size, scale and duration of the Enabling Works Contract (EWC) on the southern section of High Speed Two (HS2) phase one created a shift change with responsibility for consents moved to the contractor's remit. To deliver this responsibility, Costain Skanska joint venture (CSjv) recruited an in-house team supplemented by consultants.
The EWC included a matrix of consent types, which determined if the consents were:
Employers' (HS2) Consents
Contractors' Consents
Contractors' Consents requiring prior approval
Following Royal Assent there was an urgency to understand the differences between the HS2 Act and standard legislation and to disseminate this information to the project, stakeholders and consent granting bodies to accelerate the process, ensuring delivery to programme schedule.[1] The HS2 Act requirements were unknown to many, including consent granting bodies, and being able to disseminate the requirements whilst still having an understanding of existing legislation was essential to the process.
Approach
Delivering Consents
Understanding the scope of works was the first step in delivering the consenting requirements. The Consents framework set out an ambitious plan to deliver initiatives, maintain compliance and measure progress:
Recruit team
Procure and manage external consultants
Define processes
Deliver training
Interrogate work not yet in scope to identify long lead-time items
Deliver current known priority consents
Build relationships with Client and Consent Granting Bodies
Deliver efficiencies and value for money
Identify stakeholders (see Figure 1)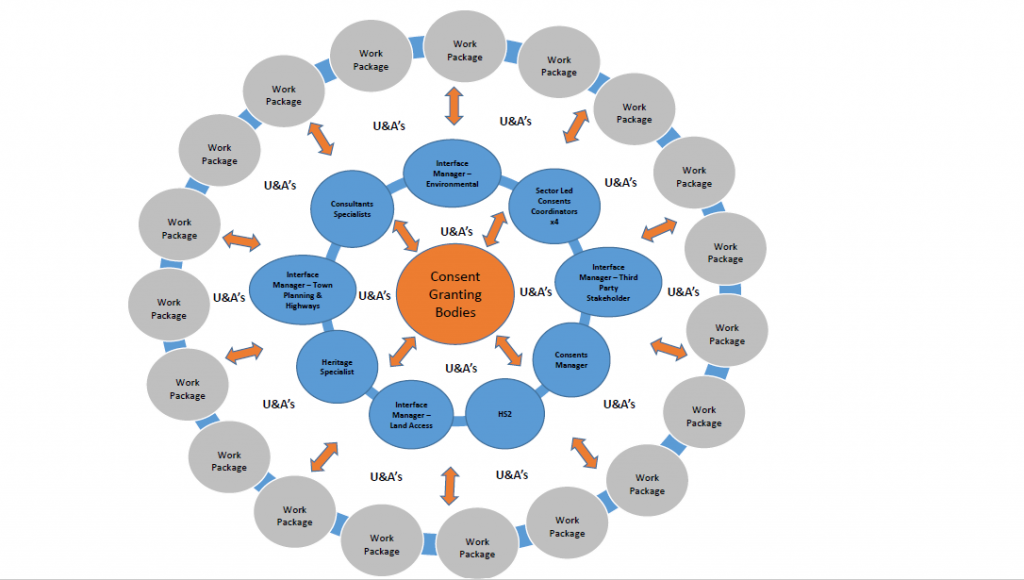 Recruit
Recruiting personnel with expertise across a variety of consents was challenging as there were limited resources with the required knowledge and skill sets; recognising the value of attitude, a proactive mindset and operational knowledge created a base to build on. HS2's core values support developing people and enhancing the communities we work in to leave a legacy.
Identify consents
Consents identified ranged from high volume Highways consents (required to erect hoarding and scaffolding, divert utilities, create new accesses, facilitate road closures, allow parking and bus stop suspensions and carry out surveys) through to low volume but lengthy Town Planning consents or Schedule 17 applications (for lorry route approvals, listed building approvals and a new memorial – see Figure 2).

Disseminate requirements
Communication to the fast-growing project team was an urgent requirement to ensure consents were identified in sufficient time and programmed in line with the HS2 Act requirements. 'Lunch and Learn' sessions, Handy Guides and drop-in surgeries were all part of a schedule of engagement and education carried out by the consents team.
Process mapping
At the start of the EWC, processes were unproven and not always effective within the Act timescales. All processes were reviewed to meet the programme requirements. Engaging with the client and Consent Granting Bodies helped to achieve common ground and reduce waste. The Undertakings and Assurances (U&As) process walkthrough was established to consider all stakeholders and variances (see Figure 3).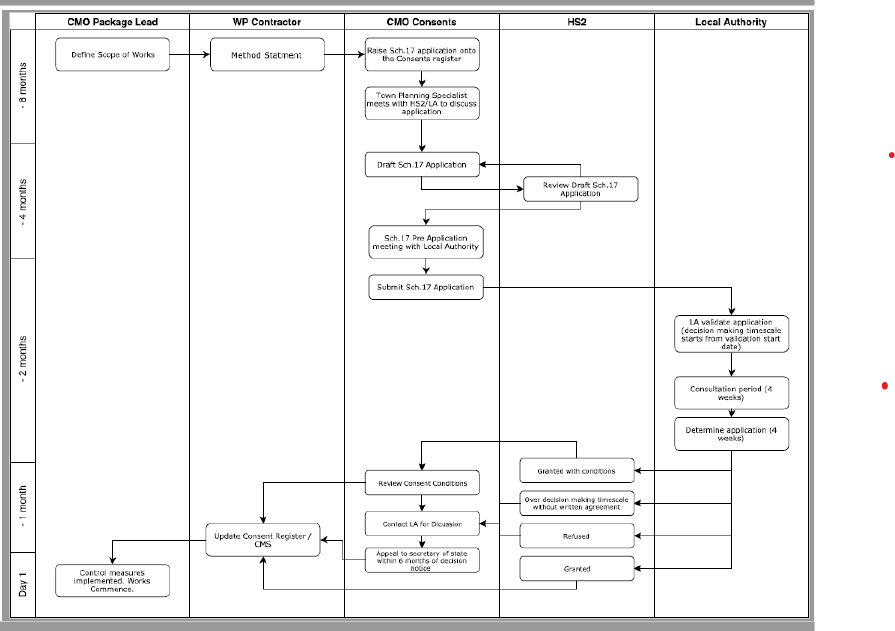 Understand legal commitments
A significant number of consents also had commitments to the U&As in the HS2 Act, as many petitioners were also Consent Granting Bodies. Linking consents and U&A management together created synergies across the programme.
Cumulative effects of multiple contractors working in the Highway
Within the HS2 footprint, Highways work required by multiple contractors working on behalf of HS2, Local Authorities, Transport for London (TfL) and other organisations soon created a perfect storm with many conflicting priorities. The contractor created simple Gantt charts and map-based weekly time slices on behalf of all HS2 contractors working in the locality and facilitated internal and external meetings to prioritise and programme works in the Highway (see Figure 4).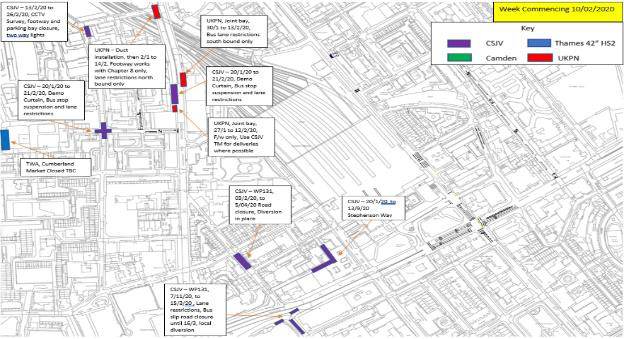 Self-assurance
A competency-based approval process was created to allow the EWC team to self-assure all highway related traffic management and minor design and build schemes. The process led to reductions in programme delay, minimising associated disruption in the Highway. An internal professional competency matrix was produced to ensure competent personnel approved designs and highway related consent applications (see Figure 5).
Figure 5: Highways Competency Framework
Stakeholder engagement
Expectations of the industry, legislation and the local communities were managed through the production of Schedule 4 HS2 Highway applications and optional Electronic Transfer of Notifications (EToN) , co-ordination meetings, community liaison meetings and many other engagement initiatives. The Principal Contractor had sole responsibility to co-ordinate all external HS2 works, third party utilities work, local authority works and any works which may have increased or created any unwanted disruption or inconvenience to the local area. Outputs from regular collaboration and co-ordination workshops with HS2 and all key stakeholders were shared with the community and other interested parties to ensure transparency of the approach to delivery.
Outcomes and learning
Establishing an in-house team supplemented by consultants enabled career development and enhanced ownership and learning opportunities across the joint venture and suppliers, bringing together operational knowledge, technical experience and a delivery mindset.
Understand the scope of work and the priorities of the EWC and HS2's wider deliverables, and pass the early lessons onto HS2 follow-on contractors.
Educate the design, planning and delivery teams to align timescales required for consents and build into their programme, to consider the additional requirement and time needed to engage with stakeholders.
Utilise an inclusive and collaborative approach to engage with other contractors and therefore provide value for money for the public.
Recommendations
The model should be adopted by HS2 contractors and the wider industry to leave a legacy of in-house expertise within the construction industry.
Acknowledgements
CSJV Consents Team
HS2 Technical Specialists
References
---