Eliminating and managing risk associated with site security access gates
Following a number of incidents relating to the use of site security access gates (two of which included lost time incidents, one of which was RIDDOR reportable), a trend was identified which prompted further investigation into gate design, use and maintenance. The investigation highlighted a variety of opportunities relating to the management of site security access gates, which enabled implementation of improvements on site and consequently led to a reduction of incidents and injuries.
This learning is shared for those who inherit gates or are responsible for procuring, installing and using security access gates
Written by

Intended audience

Contractors
Background and industry content
This learning is shared as part of the works to deliver the Enabling Works Contract (EWC) on the southern section of High Speed Two (HS2) phase one which includes demolition of buildings within the wider Euston area, utility diversions, environmental and ecological monitoring and a programme of historic environment and archaeological activities, delivered by the Costain Skansja joint venture (CSjv).
Several security personnel sustained injuries while opening and closing gates on the Enabling Works Contract (EWC). The incidents related to:
Security personnel trapping and pinching hands and fingers in the gate closing mechanisms.
Security gates with an excess of information signage were catching sail in the wind and opening and closing, consequently catching the heels causing injury to Security personnel.
Security gate hinges failing and gates lowering due to the weight of the gate itself, this resulted in security personnel physically lifting gates to align the gate closing mechanism which contributed to a finger getting trapped in the gate closing mechanism.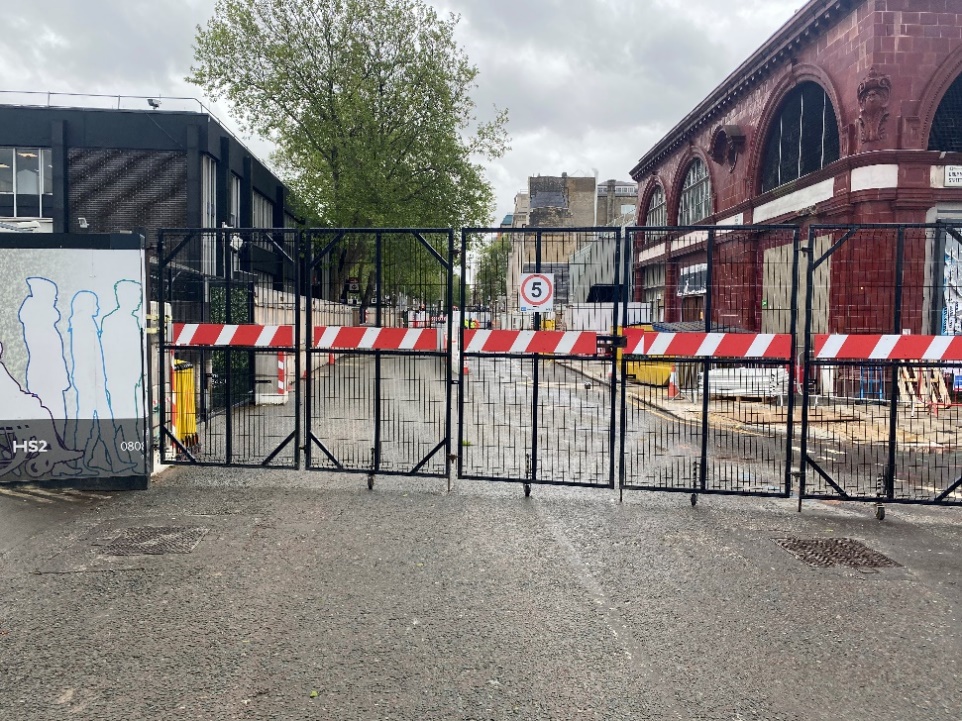 Following the investigation of the incident root causes, there were five key risk areas identified attributed to the design, management, maintenance and use of gates, which included:
Gate closing mechanisms: if poorly designed, they can cause hand entrapment and pinch points. Figures 2 and 3 below demonstrate examples where there is a risk of hand entrapment and pinch points.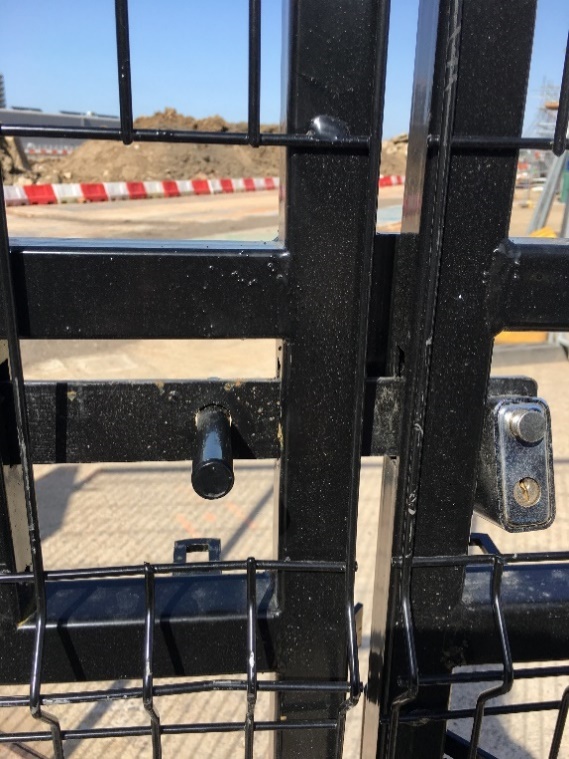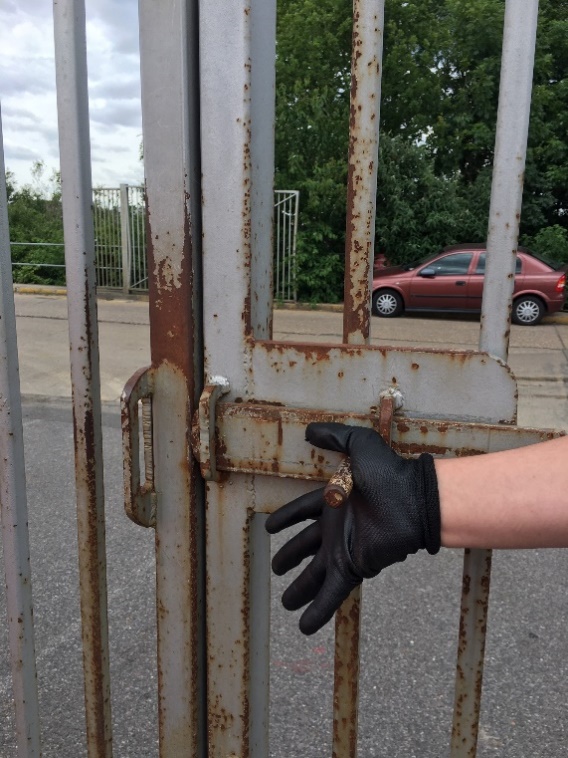 Gate hinges: fail or deteriorate over time if they are not adequately designed to support the weight of the gate which results in gates lowering and consequently the closing mechanism does not align. This causes the gate user to physically lift the gates to align the closing mechanism whilst having their hands or finger in proximity of the entrapment zone.
Placing signage: increases the wind loading of the gate and can cause it to catch sail in the wind with force. This led to gates catching in the wind during windy weather conditions when being opened and closed, risking injuring operatives.
Inspection: inadequate or failure to inspect gates at regular intervals allowed gate damage or deterioration to go undetected.
Design and condition of existing gates inherited for use as part of HS2 land possession: may be of poor design, be in poor condition or damaged, making them difficult to open and close, posing a risk of injury.
Lessons learned
In response to the five identified key risk areas, an approach to resolve and manage the identified risk was agreed between CSjv and relevant supply chain contractors.
Gate closing mechanisms: the supply chain contractor devised a retrofit design solution to eliminate the risk of hand entrapment and pinch points on existing security gates installed across the contract. The improved design solution involved; extending the length of the bolt handle and fitting a protective plate over the hand entrapment zone.
Gate hinges: must be adequately designed and possess a TL3 certificate as part of temporary works procedures.
Placing signage: limitations for placing signage are now stipulated in the permit to load for each gate after install.
Inspection: temporary works procedures applied to security gates included the requirement for regular physical inspection at intervals determined in the permit to load.
Design and condition of existing gates inherited for use as part of HS2 land possession: must be inspected and documented as part of site handover from client to contractor and arrangements put in place for regular physical inspections.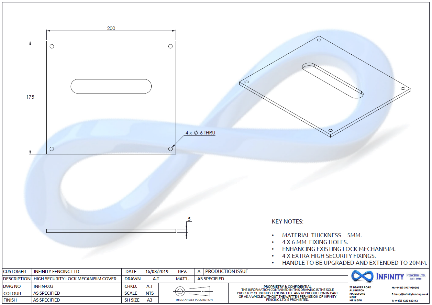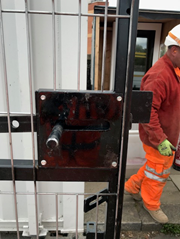 Following the implementation of these improvements, there have been no subsequent injuries or incidents relating to the use of site security access gates on the contract.
Recommendations
The lessons learned and implemented by CSjv enabled the risk associated with security access gates to be eliminated or managed and consequently we have been able to reduce injuries associated with gate use and create a safer work environment for our security personnel.
Points to consider for those who inherit gates or are responsible for procuring, installing and using security access gates are:
When gates are inherited as part of a site handover, have they been formally inspected to ensure they are in good condition? Do they require any maintenance ? Is there a design drawing for the gate? Is there a regular formal inspection regime in place to monitor the condition of the gates?
When new temporary site access gates are procured, does the contract prompt the supply chain to consider the use of closing mechanisms designed to eliminate the risk of hand entrapment?
Are temporary work procedures applied to new temporary site access gates? This includes the requirement for a Temporary Works Design Brief, a TL3 certificate, recorded on the Temporary Works Register, Permit to Load issued after install and a regular formal physical inspection as determined by the Permit to Load.
Are there any limitations on placement of signage so as not to create too much wind loading?
Acknowledgements
The authors wish to thank all those who have contributed to the successful management of this risk. These include:
Servest Security
JR Hoarding
CSjv Work Package Managers, Senior Leadership Team and Safety, Health and Environment Teams
References
CSjv Programme Temporary Works Procedure (Document number: 1EW02-CSJ-EN-PRO-S000-000009 – not available for public information).
---