Embedding Health, Safety, Security and Environmental Management (HSSE) into land and property pre-possession planning
Compulsory acquisition of land and property raises Health, Safety, Security and Environmental (HSSE) challenges. The usual due diligence that would occur in an open market transaction does not typically occur. This means HSSE issues may not be known before taking possession.
To provide earlier insight of HSSE risks, the land acquisition process embedded HSSE information requirements into pre-possession planning. This includes explicitly asking stakeholders about HSSE risks prior to notices being issued. Also, landowners and occupiers are now systematically asked to provide information about HSSE risks when they are issued a notice for acquisition.
This paper will be of interest to project teams managing land and property possession through compulsory acquisition
Written by

Resource type

Intended audience

Professionals

Tags
Background and industry content
An initial challenge for the mobilisation of any major infrastructure project is the acquisition of land and property. The usual due diligence that would occur in an open market transaction does not typically occur. This means health, safety, security, and environmental management (HSSE) issues may not be known before taking possession.
In a typical open market setting background searches and information requests form part of standard processes. However, where the land or property is acquired through compulsory acquisition two-way open dialogue with vendors may not be effective.
With the requirement for the Client to provide pre-construction information under the CDM (2015) regulations[1] and the need to understand the risks associated with a site, embedding HSSE risk mitigation as part of pre-possession planning is vital to ensure the safe and secure access, acquisition, and subsequent construction activities.
Developing the process
Within HS2 the solution was tackled through embedding HSSE information gathering and assurance as part of the standard acquisition process. This process is initiated by a contractor submitting a request for land (within the limits set out within the HS2 Act). For each land parcel an Assurance Workbook (link) is created to identify, monitor and record that all relevant considerations, checks and assurances will be undertaken. This process was reviewed and HSSE integrated at relevant stages as shown in figure 1 below: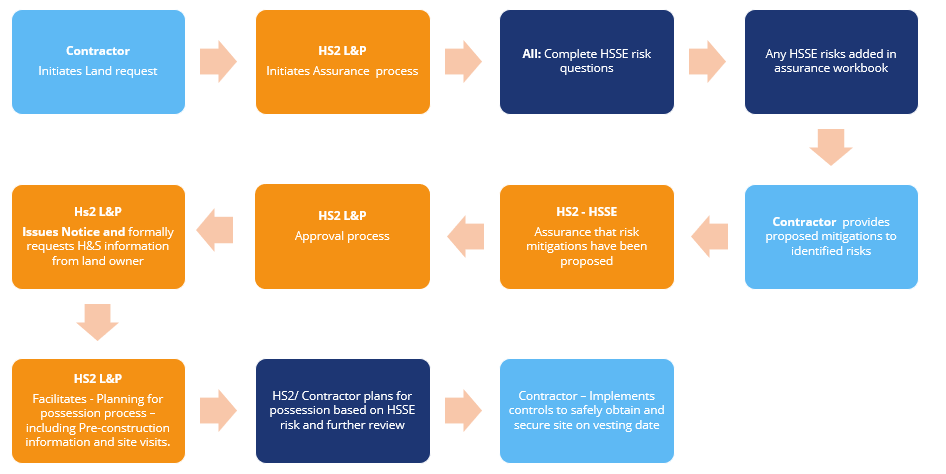 As part of a development in this process an additional a series of questions have been included for each party to answer, relating to the presence of HSSE risks associated with the site, e.g. asbestos, contaminated land, water courses or protestors. Any identified risks are entered into the Assurance Workbook and rated in accordance with table 1 below. Risks are entered by all parties involved in the acquisition process based on any information they have obtained during the acquisition process or as part of any site visits, this can include contractors, project teams acquisition managers, community engagement, interface managers or land referencing agents.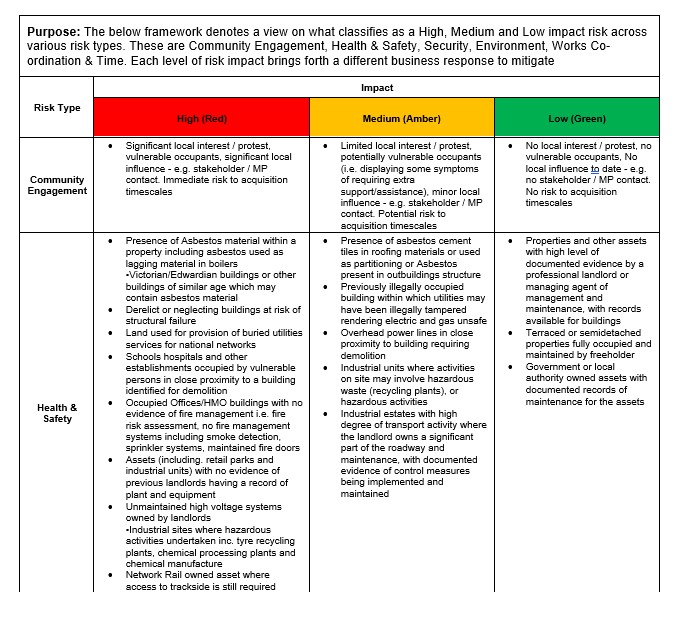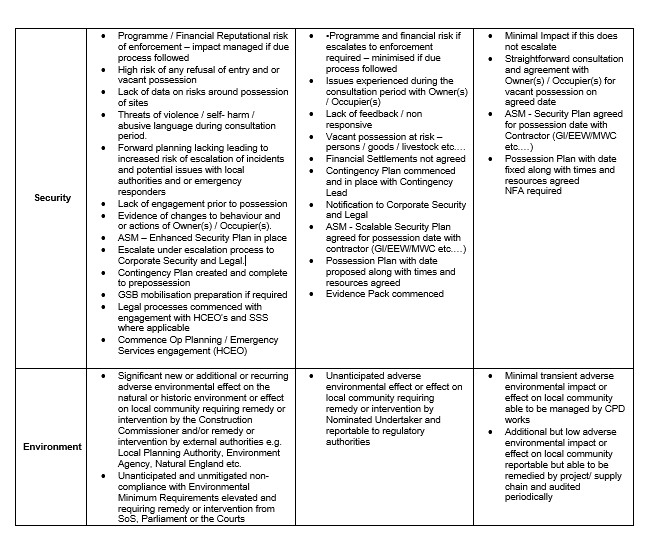 For each of the identified risks the contractor is required to propose a mitigation approach, this is then assured by the HSSE Team. This process formed part of the standard governance, requiring completion before the acquisition was formally approved.
Upon approval a Notice of acquisition can be formally issued to the relevant parties associated with the land or property confirming the date of compulsory acquisition or vesting. As a further development a HSSE pre-construction information questionnaire was incorporated into this formal issuing process. Any information received was supplied to the contractor as part of Pre-Construction Information Pack.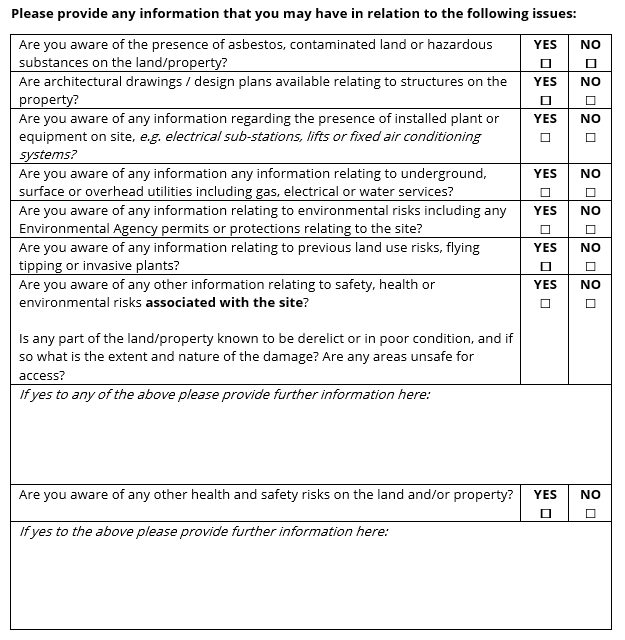 Lessons learned and successes
Prior to the introduction of these process there had been a number of incidents where properties had been possessed where both contractors and HS2 had highlighted that the flow of information between parties had not been optimal and this had led to challenges in the possession hand over. Whilst processes existed to record any risks, there was a lack of explicit questions, examples, and ratings to support the identification and mitigation of HSSE risks. The introduction of these improved communication on specific risks and wider discussion on HSSE concerns.
An assurance of land requests, before these improvements were implemented identified zero HSSE risks recorded, a more recent assurance recorded 100% of land requested had been reviewed for HSSE risks, 65% had specific risks and mitigations recorded, 30% had no specific risks and 5% had risks identified without specific mitigations (these did not pass governance so no notices issued).
By aligning the landowner HSSE information request to the Notice of Acquisition process, information is formally requested providing an auditable trail as well as containing the request to those verified as having an interest in the land. It was noticed that the return rate of these requests was higher than expected even as part of a compulsory acquisition process.
The key barriers identified in implementing the process was establishing and clarifying the nature of the risks that need to be identified and recorded. A trip hazard might be present on every site and has limited value being recorded or planning for, whereas an open shaft would clearly need to be recorded. The balance between these risks needed to be discussed with key stakeholders as part of the implementation of the processes.
Recommendations
The incorporation of HSSE information gathering and risk mitigation is critical for infrastructure projects due to the potential lack of prior access to sites. Embedding processes for information exchange and mitigation processes ensure HSSE issues are tackled at the pre-possession stage minimising disruption and impacts at acquisition. The use of explicit questions and landowner information requests has increased the level of risk identification, mitigation, and planning, minimising the impacts to landowners and possession teams and contractors.
Acknowledgements
HS2 Land Assembly and Acquisition Teams
Simon Pearce
Tim Musgrave
References
[1] HSE Books, Construction (Design and Management) Regulations, Managing Health and Safety in Construction [L153] 2015 [accessed 15th April 2021]
---