Health risk assessment programme
A systematic Health Risk Assessment (HRA) process led to improved health risk management on the central section Enabling Works Contract.
A template was created which enabled health risks for works packages to be predicted and then feedback obtained from each and every sub-contractor on a works package to accept or reject that the risks applied to them within these works. The subcontractor then outlined how control would be managed for these risks throughout the work package and this subsequently fed into their risk assessments and method statements (RAMS). This process enabled the Enabling Works Contractor to track the control of health risks throughout the works and allowed targeted audit of the subcontractor's performance against the information provided. The system has since been adopted by at least two other works packages on the HS2 Project.
The learning legacy is to use health risk assessments that outline expectations from the Client/Principal Contractor (PC) and engages the sub-contractor in the process. This also allows for simple audit of control and performance against agreed measures.
Written by

Resource type

Intended audience

Contractors

Tags
Background and industry content
There have been significant improvements in safety culture, accidents, and fatalities on construction sites since implementation of the Health and Safety at Work Act in 1974.[1] However, the rates of occupational ill health related to construction work remain stubbornly high with over 40% of occupational cancers being borne by the construction industry and many more lives ruined by chronic ill health conditions such as hand arm vibration syndrome, hearing conditions, skin problems and musculoskeletal disorders.
Through the Works Information, High Speed Two (HS2) has required all contractors to meet specific standards for occupational health risks on the project[2] at all levels of influence and intervention from design to construction and even operation, maintenance, and eventual demolition.
This paper captures learning from the Enabling Works Contract (EWC) on the central section of High Speed Two (HS2) Phase One, delivered by Fusion joint venture (Morgan Sindall, BAM Nuttall, Ferrovial Agroman). In playing a part in this as a JV Principal Contractor managing the risks during construction works, Fusion has ensured that health risk management is an integral part of the works and has implemented the appropriate controls to protect workers and others on site.
The health risk programme
HS2 works information for occupational health[3] sets out objectives and ambitions for improved control standards (extracted in Figure 1).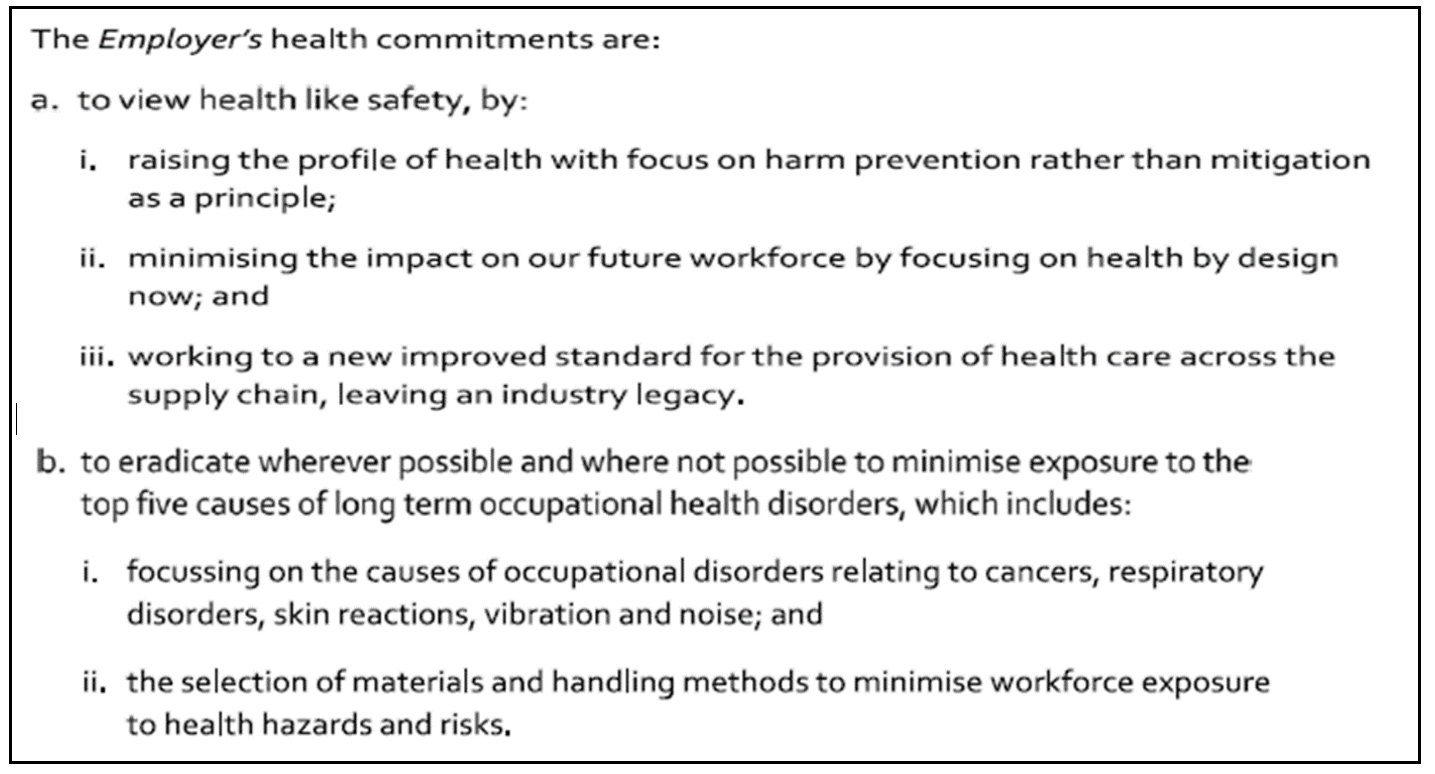 It was a requirement for Fusion to engage an external occupational health service, to provide specific occupational health and hygiene support and expertise for the project to ensure they could deliver world class standards and provide consistent and specified resource for this. Park Health and Safety were successful in being awarded the contract and were embedded within the JV as part of the occupational health manager role and health and hygiene service provision.
The use of a specialist occupational hygiene service enabled Fusion to drive identification and management of health risks for the project. However, it was recognised that this did not cover the work for the subcontractors – not only as in law they own the risks they create, but also there is a need to ensure contractors fully understand the risks and can identify and implement suitable controls on site to protect their workers. In order to transfer the knowledge and expectations of risk management through to subcontractors a template risk assessment was produced which met the ambitions for clarity of communication and provided a simple way for subcontractors to respond to each standard of requirement.
The Health Risk Assessment (HRA) template was produced by the occupational health team and worked on the premise that contractors are familiar with completing templates for risk assessment purposes. Having a template which incorporated both the Client and Principal Contractor expectations allowed contractors to respond directly to these risks. The detail required was simple, yet a very effective improvement to progress occupational health management and oversight.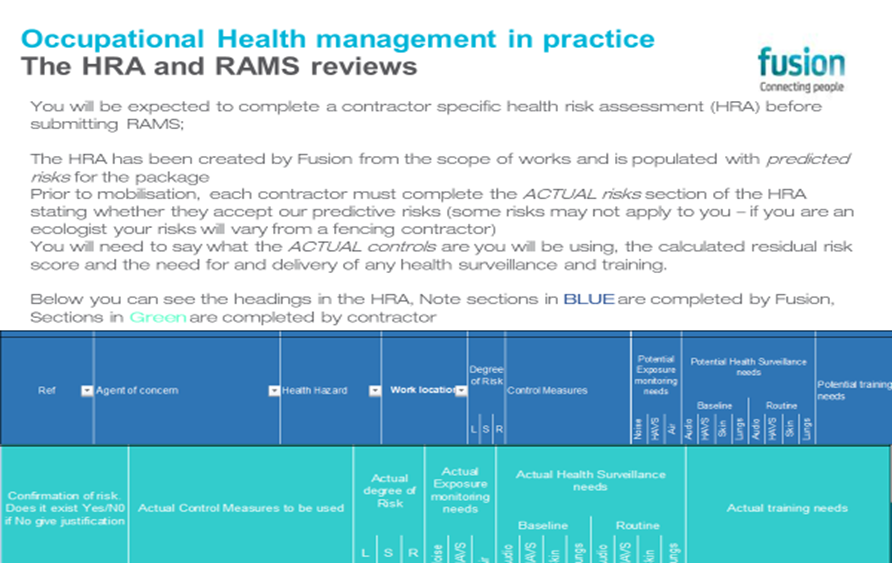 The occupational hygiene team gather information on the works packages and activities planned, from this a 2-part Health Risk Assessment (HRA) template is created as shown in Figure 2.
Part 1 (headings shown in blue in Figure 2) is populated with predicted health risks and best practice control standards for each risk are outlined to mitigate these risks. Part 1 also includes information on where exposure monitoring may be needed, suggested training on risks identified and where health surveillance may be a requirement.
Part 2 (headings shown in green in Figure 2) of the HRA is left blank for the subcontractor to complete, the template is passed to the subcontractor(s) who are asked to identify which activities and risks apply to their work. If they reject a suggested risk, they must outline why this is the case (for example, if contaminated land is a risk identified and the contractor will not break ground this may not be a risk for them). In accepting the risk is present, the subcontractor must then detail how control will be achieved, whether training will be given, whether exposure monitoring will be undertaken and where health surveillance will be needed.
The completed assessment is returned to Fusion who accept the suitability of these controls in principle or ask for further information where this is needed before accepting the HRA. The suitability of control standards is judged by agreed standards set by our occupational hygiene expertise and by their judgement where this deviates.
Once complete and accepted the information in the HRA acts as an overall health risk register for the subcontractor from which information can be used to inform the creation of risk assessments and method statements (RAMS).
The completed template then allows the control of the health risks to be tracked throughout the works and the sub-contractors can be audited against the information provided. This approach has generally raised awareness of health risk management by giving it a profile and focus of attention. It has led to improved control standards on our sites as determined via our site occupational hygiene audits. It has enabled conversations on health risk management which haven't been had with contractors before. We hope these contractors can now take this knowledge and understanding of good health risk control measures to other sites and projects.
Lessons learned and successes
This approach has been helpful in communicating with contractors and raising the profile and standards in occupational risk management. It was recognised that there can be the pitfall of subcontractors simply 'copying' the standards set out by Fusion as their adopted control measures. However, the rigorous review method by dedicated occupational hygiene professionals can challenge this to ensure their understanding, and the audit approach allows a direct review and site follow up. Therefore, having appropriate occupational hygiene support can be hugely beneficial to drive improvements in occupational health risk management.
The system has been so successful that it has since been adopted by at least two other works packages on HS2. The approach can clearly demonstrate support and delivery against the commitments outlined by HS2 in their Works Information in Figure 1.
Recommendations
To improve health risk management, it is recommended that contractors have access to occupational hygiene support where possible. This allows a focus and expertise in health risks to be brought into the programme. Having a template that sets out expected standards relating to activities and risks for each work package, that subsequently facilitates communication, engagement, and assurance of control measures between main contractors and subcontractors can enable standards to be continuously improved.
Acknowledgements
Melodie Gilbert – Fusion Occupational Health manager
Clare Forshaw – Park Health and Safety LLP
References
[1] Health and Safety at Work Act in 1974
[2] Enabling Works: Works Information – SWIO0900 Health Safety & Wellbeing (Document No: 1EW03-FUS-CM-XXZ-C000-000992)
[3] HS2 MAIN WORKS CIVILS CONTRACT WORKS INFORMATION WI 1150 Occupational Health Document Number: 1MC01-HS2-PR-ITT-000-000504
---