Management of completion and handover
This paper describes the process of planning and managing completion and handover, in particular the importance of starting at the early stage of a contract, defining processes, requirements and deliverables at each life cycle stage, and providing briefings and specific templates for a standardised approach across a complex and diverse programme of works.
The increased level of engagement and awareness, as the works progressed and the onus on handover managed increased, and the preparedness for completion and helped reduce handover periods from over six months at the initial stages in the programme to routinely less than four months.
This paper will be of interest to other projects considering their completion strategy and handover management.
Written by

Resource type

Intended audience

Consultants
Contractors
Public Sector Clients

Tags
Background and industry context
Historically, the term completion was regarded as referring to the finishing of physical works onsite. The retention of required handover and completion information and resources at the completion stage has always been very challenging for assurance delivery and contract completion.
The Enabling Works Contract (EWC) on the southern section of High Speed Two (HS2) phase one includes the demolition of buildings within the wider Euston area, utility diversions, environmental and ecological monitoring and a programme of historic environment and archaeological activities, delivered by the Costain Skansja joint venture (CSjv).
The EWC South programme of works is delivering around 80 projects, known as work packages (WPs), delivered under the NEC3 Engineering and Construction Contract (ECC), Option F (Management Contract)Each of these WPs needs to be individually assured and handed over for them to be deemed contractually complete. Activities relating to completion are easy to overlook during the planning, mobilisation and delivery phases of a package, but it is the early preparation that is essential for efficient and successful completion and handover of each WP.
Approach
Costain Skanska joint venture's (CSjv) depth of experience from other projects, e.g. Crossrail, informed the approach on the High Speed 2 (HS2) Enabling Works Contract (EWC) South. A dedicated handover team, and standardised systems and process approach (see Figure 1) helped to manage work package completion efficiently and in a timely manner.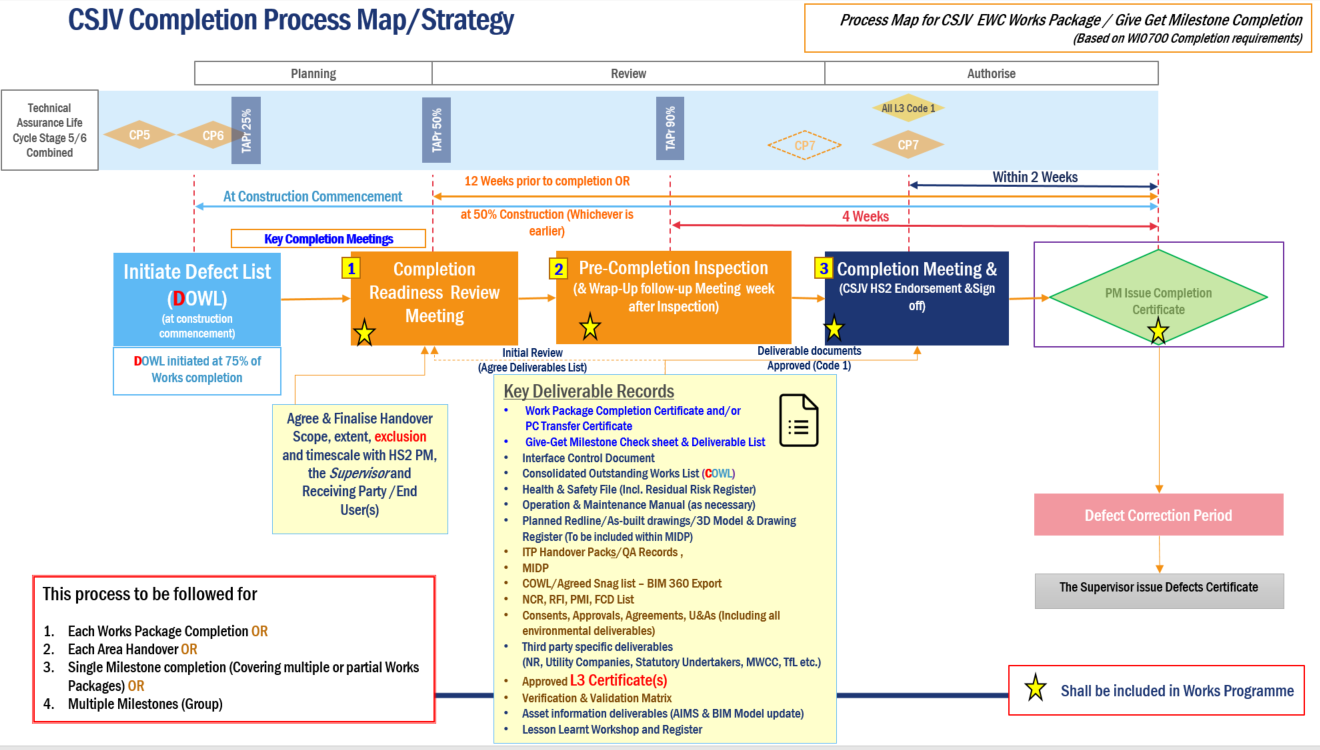 Completion Readiness Reviews
The use of a standardised Completion Readiness Review Meetings (CRRM) agenda helped to ensure that deliverables requirements were identified in early stages and agreed with clients to avoid possible delay at handover stage.
The CRRM minutes template is available as supporting material to this paper, and the two main agenda items are summarised as follows:
WP timescale – understanding when works finish and the details of any pre-inspections, reviews and completion meetings scheduled
Deliverables – review of the readiness of key completion assurance deliverables such as stage gate certification, Health and Safety Files, As-Built drawings and Inspection Test Plan (ITP) handover packs.(See learning legacy paper about establishing the Super MIDP)
The attendees include representatives from the Technical Assurance, Engineering and Project Management teams from both CSJV, HS2 and any applicable Third Parties (such as follow-on contractors or utilities providers) to ensure visibility of what was being completed and handed over as an end product. The attendees present from CSJV also provided independent scrutiny which resulted in actions that ultimately contributed to the WP team's readiness for completion.
The standardisation of this process also ensured that learning and efficiencies could be passed from package to package to enhance their readiness and preparedness for completion.
Tracking readiness for completion and handover
The use of various (deliverables and completion) trackers and a completion dashboard (see Figure 2) ensured continuous monthly monitoring, transparent reporting, the highlighting of areas requiring intervention, and timely completion. The integration of the Completion, Quality, Technical Assurance (See learning legacy paper Leading advances in Level 3 Self Certification ) and Work Package/Construction Teams also ensured a collaborative completion approach and 'one team spirit'.
The completion dashboard includes details of:
Geographical and team split of the completion works
Status of WP Completion Certificates
Schedule look-ahead
Completion Readiness Review Meeting details
Defects and Outstanding works issues
Risk ratings of WPs in their readiness for completion
These elements built transparency in the process and allowed accurate periodic reporting to the programme's senior management. As a tool, the completion dashboard demonstrated collaboration and synergy in integrating the work of technical disciplines toward their common goal, which was to support the timely completion of each WP on the programme.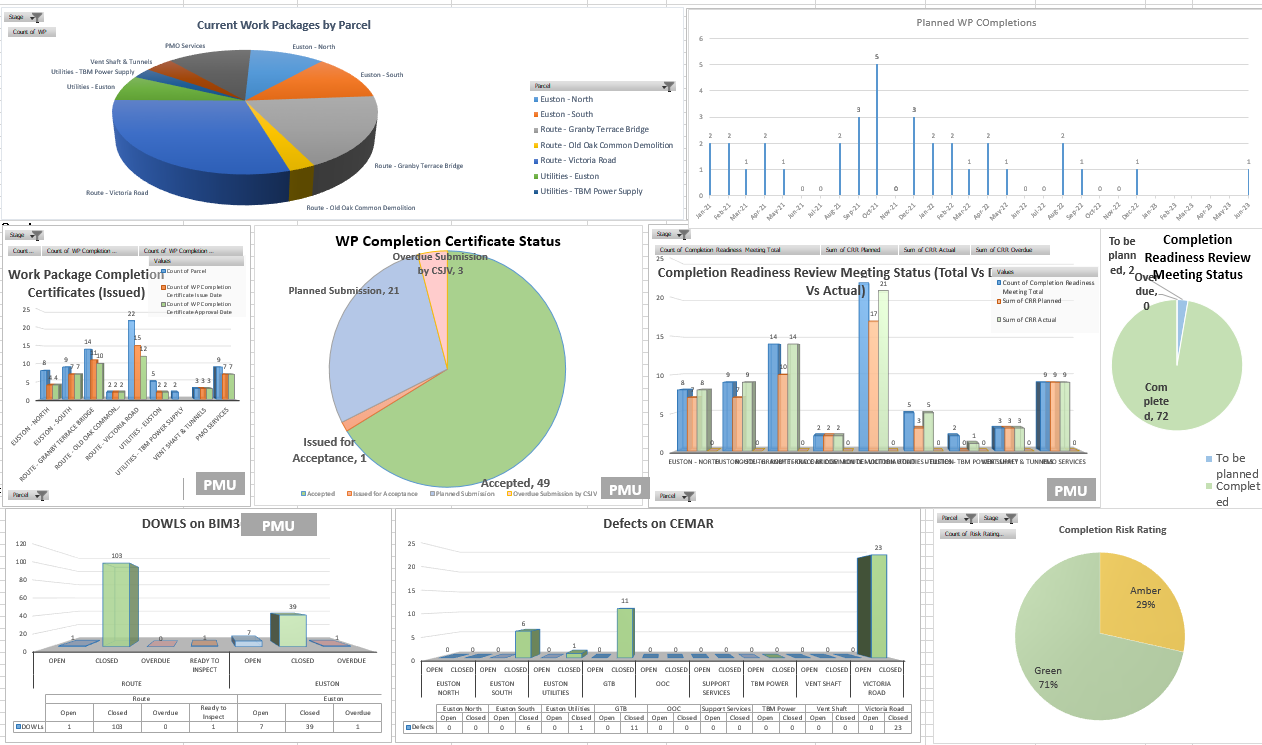 Outcomes and learning
Holding Completion Readiness Review Meetings in collaboration with the Client early-on in a project life cycle has been an important learning aspect to ensure that deliverables and timescales are identified as early as possible, avoiding additional delay at completion.
A dedicated Handover team at the early stages has been very useful to set processes and requirements, hold monthly progress team meetings and provide support to the construction team during the construction phase.
As the programme of works progressed, the onus on handover management increased, and WPs planned their completions far earlier. This increased engagement, awareness and preparedness for completion and helped reduce handover periods from over six months at the initial stages in the programme to routinely less than four months presently.
Recommendations
Engage and set up a Completion/Handover Team at the early stages of the project life cycle, ideally ahead of mobilising. Time committed early on increases efficiencies at the tail-end of the schedule.
Define the overall completion strategy, process and procedures and keep them consistent across the programme of works.
Define templates for assurance deliverables for a standardised approach.
Provide mandatory regular completion readiness review meetings (with construction and client team) for completion deliverable agreement in advance of their production.
Conclusion
Overall, advanced planning for completion, systematic and standardised processes (See LL paper ID5710 Monitoring completion health to drive performance and provide scheduling certainty), regular and transparent reporting, progress meetings and collaborative working are the key lessons for Completion and Handover.
Collaborative team working, good communication, and progressive assurance is also very important for achieving successful completion. This was key for the EWC.
Supporting Information