Oak Processionary Moth – a health risk to working in wooded areas
As part of the Enabling Works Contract's ecological surveys of trees, an Oak Processionary Moth (OPM) nest was found in a tree in the Colne Valley. OPM can cause various health related issues such as skin and eye irritations as well as, in some cases, breathing difficulties and can penetrate through normal PPE.
In consultation with an OPM specialist, an inspection of all oak trees in the area was undertaken prior to any climbing for inspection or felling. OPM finds were reported to the Forestry Commission who are working to prevent further spread of OPM.
This paper describes the actions taken to mitigate the health risk from OPM and shares the resulting good practice document and risk assessment that were produced. This learning is recommended to any Contractors involved in working in wooded areas – particularly major projects with extensive enabling works and de-vegetation over large geographical areas.
Written by

Resource type

Intended audience

Contractors

Tags
Background and industry content
Ecological surveys of trees were required as part of the tree clearing programmes within the Enabling Works Contract (EWC) on the central section of High Speed Two (HS2) Phase One, delivered by Fusion joint venture (Morgan Sindall, BAM Nuttall, Ferrovial Agroman).
During these surveys an Oak Processionary Moth (OPM) nest was found in a tree in the Colne Valley.
The health risks of OPM are not widely known, although it can be found in most of Greater London and in some surrounding counties in the South-East. The main concerns with this species on site are that caterpillar's hairs can cause various health related issues such as skin and eye irritations as well as, in some cases, breathing difficulties and can penetrate through normal PPE. Caterpillar hairs can persist on a tree for several years and stay toxic for up to 7 years, causing skin and eye irritations as well as in some cases breathing difficulties.
Oak Processionary Moth as a health hazard
As part of the tree clearance activities within areas of bat roost potential (being conducted under a Natural England Bat Licence), Potential Roost Features (PRFs) within trees were being inspected by bat ecologists through either the use of a Mobile Elevated Work Platform (MEWP) or climbed inspections.
Fusion, working with its consultant AECOM, had a team of ecologists implementing the Natural England bat licence covering the felling of trees within the Colne Valley area in summer 2020.
A climbed bat tree inspection in June 2020 identified the presence of OPM, a pest species and a hazard to human health. A tree climbing ecologist was exposed to OPM during a climb resulting in severe skin irritation of forearms despite wearing a long sleeve top at the time. The tree climber did not have direct contact with the area covered by the nest, only contact with a nearby branch which had no visual indication of anything untoward or hazardous on it. Both of these factors demonstrated the danger of OPM exposure and the challenges in dealing with it.
When the team first encountered the OPM it was a relatively unknown hazard, so a management plan had to be developed to manage this risk.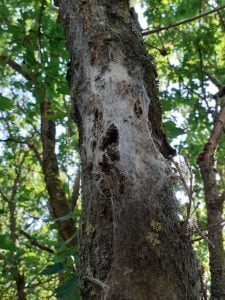 Hazard mitigation
The main initial concern was to raise awareness and avoid any future incidents of exposure.
The implementation of the hierarchy of controls was put in place immediately in order to minimise the risk to health from future exposure to OPM.
Works were stood down across the Colne Valley and all operatives involved in Fusion tree works within the Colne Valley (including bat workers, felling contractors, MEWP operators and others were provided with a toolbox talk covering basic identification of OPM, and health and safety risks associated with its presence.
Initial survey by the ecology team identified further Oak trees and a range of other susceptible tree species in an area covering an area of 19 hectares that had potential OPM habitation. Works then remained halted in these areas until full OPM surveys (and where required mitigation) were undertaken.
Trained OPM specialist ecologists were then required to pin-point the exact trees that were at risk. The surveyors were procured and then carried out surveys to confirm that trees were clear before works re-commenced in the at-risk areas.
Where OPM was identified in a particular tree, an exclusion zone was established. A specialist OPM contractor attended site to remove nests from identified infected trees. Operatives engaged in OPM removal required specialist protective suits and masks in order to undertake the removal safely. Removed nest material was treated as hazardous waste and removed off-site for incineration.
Residual risks remained after nest removal, due to the possible presence of caterpillar hairs etc on the rest of the tree:

given the incompatibility of full OPM PPE with undertaking climbed ecological inspections, the tree after nest removal was inspected by MEWP. Where this was not practical, alternative bat inspection methods were considered including undertaking emergence / re-entry surveys, and/or soft felling.
The trees themselves once felled were also hazardous waste and had to be managed accordingly
Lessons learned
The first OPM encounter was unexpected, resulted in skin irritation to a tree climbing bat ecologist and caused programme delay in planned work area whilst appropriate working methods were planned. The key lessons learned were:
to increase awareness of this issue such that it is incorporated in the planning of activities in wooded areas
ensure that the workforce are aware of OPM as a health hazard and can identify it on site.
A Toolbox Talk was produced to communicate the risk and is now given to all operatives working in wooded areas. Ecological surveys of wooded areas now include visual inspection for OPM and Fusion has implemented management processes to deal with future encounters. A good practice document was produced and a risk form developed.
Several school and other community interests had requested donations of felled oak. Fusion were unable to accommodate these requests due the residual risks of OPM on the felled timber and in accordance with Forestry Commission guidance. Instead, alternative species of timber were donated to these community projects.
OPM finds must be reported to the Forestry Commission who are trying to prevent further spread of OPM, which has spread from central Europe.
Recommendations
It is suggested that other projects should
consider the risk of OPM for all work in woodlands within the area of its known distribution
include in all Risk Assessments and Method Statements and arrange Toolbox Talks to enhance awareness in the workforce.
identify oak trees in work areas and arrange advance surveys.
ensure that OPM specialist surveys are included in the scope for ecological or arboricultural survey packages so that the risk is identified and defined early.
include within the procurement of de-vegetation subcontractors (or ecology consultants) for a specialist OPM contractor. This could be on a call-off basis and be at Tier 3 level – but in order to prevent programme impacts it is important that this risk has been captured within the procurement process so that mitigation measures can be implemented rapidly where required.
Acknowledgements
Fusion worked with AECOM and Practicality Brown Ltd in implementing this tree clearance scope and associated measures to ensure good practice in relation to OPM.
References
OPM is established in most of Greater London and in some surrounding counties. Further information is available from Forest Research (FR), the research agency of the Forestry Commission (FC) and Great Britain's principal organisation for forestry and tree-related research. The links below contain relevant information from Forest Research:
---