Project specific display screen equipment assessment including remote working
It is standard practice for employees to complete a common Display Screen Equipment (DSE) assessment. In a joint venture situation there are different parent company policies and practices which can make the process to access support difficult and complicated, resulting in varying levels of take-up and support. Furthermore existing approaches to DSE assessments often do not fully address the needs of staff working remotely.
On the High Speed Two (HS2) Euston construction project, the Mace Dragados joint venture (MDJV) takes a project-specific approach where everybody is required to complete an assessment irrespective of which organisation they work for. However, during COVID lockdown, it was identified that the existing approach to DSE assessments did not adequately address remote working and hence a co-ordinated project-specific approach was developed. This included developing a flow chart and decision tree to help individuals identify their needs to help line managers approve the provision of any needed equipment. Accompanying advice and guidance covered situations such as avoiding fatigue and good posture. A set, time-window for completion allowed for monitoring of returns and equipment delivery arrangements to be collated together. The scheme helped generate a 'one team' approach in engaging with employees from different parent companies providing a cohesive, co-ordinated solution.
This approach along with the supporting guidance documents are shared as a learning legacy that could be adapted for use by other organisations engaged in joint ventures or for any project where staff are working remotely at home.
Written by

Resource type

Intended audience

Contractors

Tags
Background and industry content
Euston Station construction project is part of the High Speed Two (HS2) phase one works, being delivered by the Euston Integrated Project Team (IPT) including Mace Dragados joint venture (MDJV) and Arup.
The COVID lockdown of 2020 led to a situation where most of the Euston Station construction project were required to work remotely at home. Few of the team had experienced the isolation that the lockdown brought to many, most were used to working in offices or site accommodation alongside their colleagues and peers. Working remotely brings challenges to people used to having access to office equipment such as desks, supportive chairs, ergonomic keyboards etc. The lockdown also saw people resorting to using dining tables and chairs for an office space or sharing any available space with other household residents. It was therefore decided to establish a mechanism by which each person's working environment could be self-assessed against agreed home working criteria and identified requests for resources could be met.
Implementation
The project specific display screen equipment assessment was created from a variety of good practice examples sourced from the web (see figure 1 below). When finalised, it consisted of a checklist for people to use in assessing their home workstation and included guidance on how to address wellbeing issues whilst working remotely.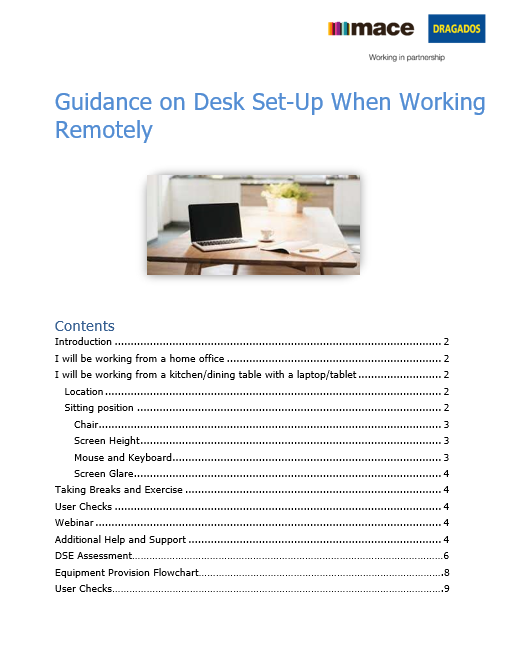 To be relevant to the project and to create a consistent way of supporting people's requests for additional resources, the assessment also included a flowchart for use in determining how extra equipment could be obtained (see figure 2 below).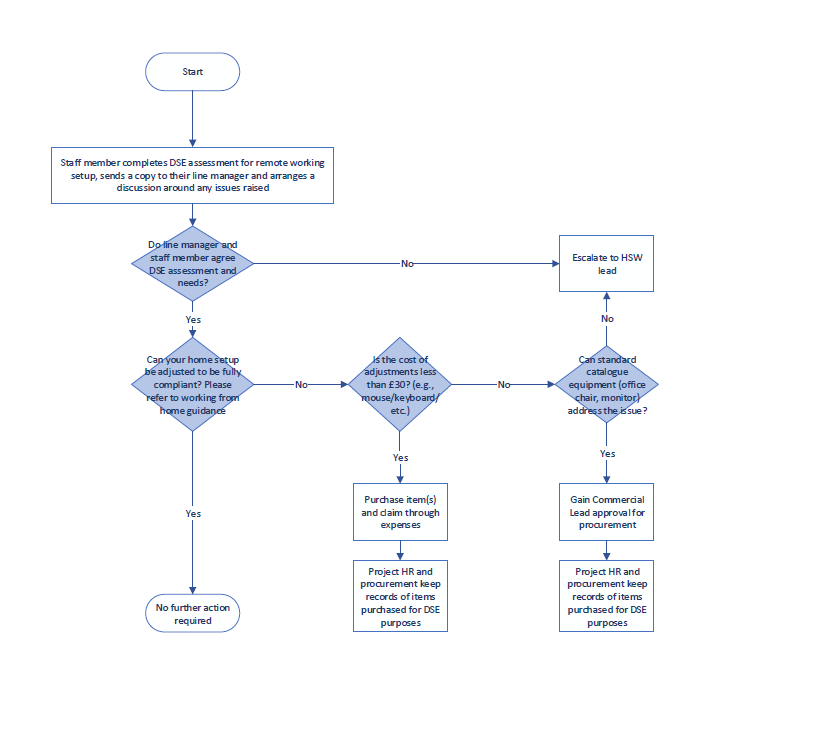 For example, some items that had a cost of less than £25, such as ergonomic keyboards, could be purchased by the user and claimed through company expense systems. Larger and more costly items, such as chairs and desks, required line manager approval and purchasing through the project commercial team. This system meant that volume requests could be handled more effectively in terms of ordering and delivery.
If line managers were uncertain as to the legitimacy of a particular request, the flow chart directed them to speak to a project Health and Wellbeing lead for approval.
Once the assessment document had been developed, it was circulated to several key stakeholders for review. Once finalised, a date for circulation and the period for completion was identified. In advance of its issue, a document containing Frequently Asked Questions (FAQs) was created and shared with all project line managers to ready them for requests for support (see figure 3 below).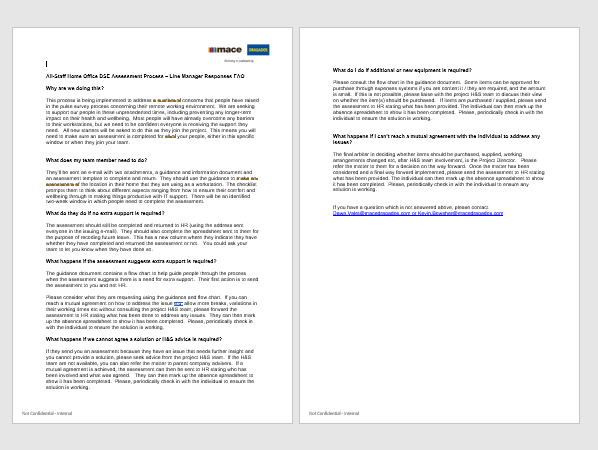 Line managers that required advice or decisions on requests were supported by the project's people management team and Health and Wellbeing lead. The document was circulated to all project staff as an e-mail attachment originating from the project director's address. This included the rationale for the approach, the timescale for completion and who to contact with questions or queries, (i.e. the project's people management team).
Monitoring
The document was issued with a mandated 2-week window of completion. Those that did not require additional resources or support, were guided to send the completed assessment to the project's people management team. Those that identified a request sent a copy to their line manager and once the request had been addressed, the line manager sent the document to people management. This approach meant completion rates could be monitored and a record kept of everyone's assessment, including where extra resources had been approved / purchased.
All subsequent new starters to the project were issued with the project DSE assessment document and were required to complete the checklist within 2 weeks. Completion was monitored in the same way as that used during the time window created for all staff.
Records were also kept identifying the numbers and types of additional resources that were requested and supplied. This allowed for bulk purchasing opportunities. For example, ordering several computer suitable chairs proved to be more cost effective than arranging single purchases each time a request was made.
Levels of satisfaction and people's perceptions about the DSE scheme were captured using questions added to a regular pulse survey (see Figures 4 and 5 below). The data indicated positivity towards the ease of use of the scheme. When people who had not completed the assessment were asked why, a range of responses were provided ranging from a lack of time to not completed because no extra support being needed.


Lessons learned and successes
Some people did not complete the assessment within the published timescales, including several senior level staff. This required continuous promotion and individual follow up
Most people completing the assessment did not require additional support or resources
As completion was tracked, anyone that did not respond could be quickly followed up by line managers
Most people that required additional support asked for computer chairs, these were ordered in bulk and delivered to people's homes
There were a few, more complex cases involving extra equipment and support in line with providing reasonable adjustments for disabled staff e.g. providing ergonomic keyboards and assistive technology software
The approach proved to be effective in creating one, consistent process for use by employees from two, different parent companies whilst working together on a key project
Recommendations
In a joint venture situation, where different parent company policies and practices are likely to be present, there is potential for the process to access support to be difficult and complicated, which will end up with varying levels of take-up and support. Creating a single project specific approach that simplifies the process for managers and their teams makes it easier and quicker for everyone to access support
Where an assessment system is employed of this type, ensure completion is tracked and non-completion is followed up to determine whether there are issues or concerns present preventing someone completing the assessment
Ensure the requirement to complete the assessment is communicated and reinforced, especially to make it clear that even if an individual doesn't perceive they require support, it is still a requirement to engage with the process.
Use a survey system to capture people's perceptions of the assessment process and to make any amendments where they are required
Monitor trends in the types of resources requested by people after completion of the assessment, this may present purchasing efficiencies.
Testimonials
'I'd just moved to a new house and I was using a breakfast bar table in my kitchen as my workstation. This was too high and uncomfortable when working. My assessment showed it wasn't a suitable arrangement, so I used the project's processes to identify what could be done and then to arrange for a desk to be issued to me. This was an easy thing to do and everything was approved so quickly.'
MDJV Construction Manager
---