Remote working employee 'buddy' scheme
The COVID pandemic meant that most staff were required to work from home. To address the potential for isolation whilst working remotely on the High Speed Two (HS2) Euston Station construction project and ensure that all project staff had an opportunity to engage with another colleague, a 'buddy scheme' was developed randomly matching one employee with another. As new starters were inducted onto the project, they were also allocated a buddy in their first week of employment. The scheme's associated guidance promoted daily contact between buddies at a mutually agreeable time. Questions about the efficacy of the scheme, including quality of the guidance and the continuing value of the scheme itself, featured in project pulse surveys. This provided the project's managers with information about the scheme's worth and take up. The scheme has been broadly supported by most staff. Its simplicity means it can be continued beyond the COVID lockdown and be readily adopted within other large or small construction projects. Benefits came from having assurance that all employees had access to at least one means of support.
Insight from and guidance for the buddy scheme are shared as a learning legacy for future projects considering their support to staff who are remote working.
Written by

Resource type

Intended audience

Contractors

Tags
Background and industry content
Euston Station construction project is part of the High Speed Two (HS2) phase one works, being delivered by the Euston Integrated Project Team (IPT) including Mace Dragados joint venture (MDJV) and Arup.
The COVID lockdown of 2020 led to a situation where most of the Euston Station construction project were required to work remotely at home. Few of the team had experienced the isolation that the lockdown brought to many, most were used to working in offices or site accommodation alongside their colleagues and peers. One of the methods chosen to alleviate any sense of isolation was the roll out of a buddy scheme across MDJV. This approach was included in a raft of other initiatives including a regular pulse survey and home working environment assessment under the auspices of a dedicated 'People Support' committee.
Initial steps
At the beginning of 2020, the COVID pandemic in the UK led to the Government announcing a national lockdown. Although work on construction sites was exempted from the regulations, most office or site-accommodation based employees were required to work remotely at home. At the HS2 Euston Station site, construction work had not commenced, which meant the entire workforce of around 150 people were required to work remotely. Planning and preparation for site works had to continue. No staff were furloughed or made redundant.
The project's management needed to explore options for supporting the team, whilst understanding that there would be no opportunities for people to physically meet. One of the options put forward involved allocating each team member with an identified 'contact' or 'buddy', who was also a member of the project cohort.
Implementation
Once it had been agreed to launch the 'buddy' scheme, a start date was approved by senior staff, this, along with the scope and some 'do's and don'ts' was shared with the project team during an all-project virtual gathering. The pairings, which had been allocated on a random basis from an all-staff list, and written guidance were then circulated by e-mail to make sure everyone had been notified.
The Project Buddy Scheme – Guidance for Users suggested that the pairs touch base daily using the MS Teams Chat tool. The initial engagement provided the opportunity to mutually agree the timings for exchanges. It was also recommended that if a member of staff could not contact their buddy at an agreed time and there were further grounds for concern, such as non-answering of text messages or direct e-mails, a line manager should be notified. Other areas included in the guidance covered the nature of conversations and who to speak to about concerns or questions.
An additional benefit arose from the allocation of buddies without reference to the joint venture partner that an individual worked for. This meant bonds were formed across the team, helping to break down any barriers that existed around which company a person worked for.
As new starters joined the project, they were allocated a buddy (another new starter) and briefed about the parameters during their on-boarding induction session. The 'buddy' scheme was promoted on a regular basis through regular references to its aims and purpose during weekly all-project team meetings and within documents promoting support options for our staff see Figure 2 below.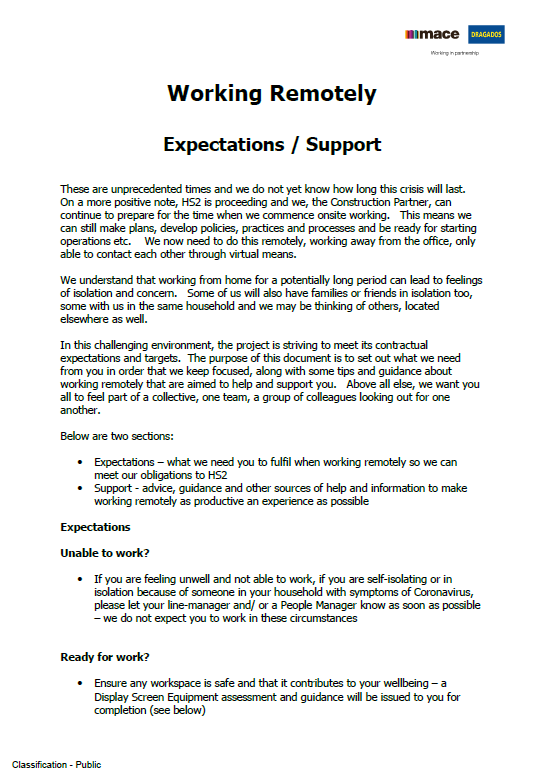 Monitoring
The level of take up of the scheme as well as user's views as to its effectiveness in providing support was tested by including specific questions in a bi-weekly pulse survey employed on the project. The survey was completed in an anonymous fashion to encourage honest feedback. The buddy scheme was reviewed after 4 weeks of operation through a question included in the survey (see figure 3 below).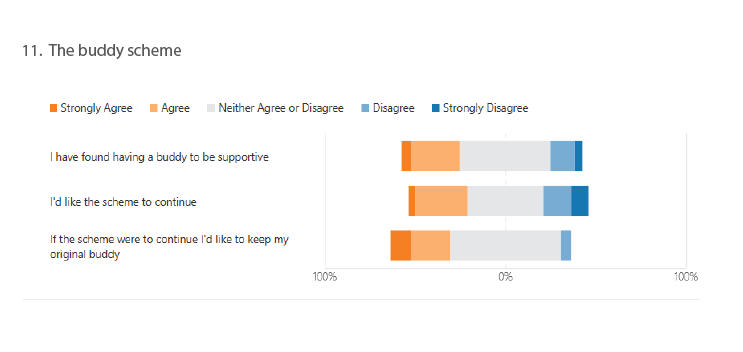 Whilst the data did not indicate universal engagement with the scheme, most project staff were either very supportive, supportive, or ambivalent. Few people expressed a reluctance to engage. These results were sufficient for the scheme to be retained and new starters to be included as they joined. The scheme was refreshed in early 2021 with new pairings although people were encouraged to remain in touch with their established buddies if they wished to.
Lessons learned and successes
The pulse survey responses indicated the scheme was of value to the majority of people and it was therefore continued after the 4-week trial – including keeping the buddy allocation the same
Some people did not accept their randomly selected buddy and did not engage in the scheme – when this was identified through individuals raising concerns it was mostly found to be due to personality conflicts – building in a means of changing buddies could therefore be beneficial
People flexed the guidance to make it work for their situations and therefore not everyone spoke to their buddy everyday
Some people engaged with the allocated buddy but indicated they would not use them as a means of support in confidential matters – other support options, including access to professional services, were therefore promoted
Allocating new starts as buddies for other new starts wasn't ideal because neither would be up to speed on project policies, processes, and practices
Bonds were formed between people who would not have ordinarily engaged with each other, including across employing companies
Examples were captured of people using their buddy to air concerns and of effective support being provided to them
As one of several support interventions provided, the implementation of the buddy scheme demonstrated to employees that their wellbeing was of concern to management
Recommendations
Be flexible and less prescriptive around the parameters e.g. don't stipulate contact every day as this may not be possible for everyone and could put people off engaging with the scheme
Consider how to allocate buddies in a way that takes account of new starters – mixing new people with existing staff could offer more support options
Link a buddy scheme with other support options, including one related to surveying staff for their views as this allows for monitoring and evaluating a scheme's effectiveness
Explore the facilitation of a buddy scheme in non-lockdown circumstances, for example, on-site, in offices etc.
The buddy scheme implemented at Euston Station was one of the schemes that MDJV staff felt supported them whilst working remotely during lockdown. Insight and guidance for the buddy scheme are shared as a learning legacy for future projects considering their support to staff who are remote working.
Testimonial
'The opportunity to stay connected provided by the buddy system has been an invaluable support mechanism during the lockdown period. Knowing that you have a regular contact with the same person enables a measure of surety to be had about both one's working and private life.' MDJV Operations Director – Logistics
'Knowing that there were colleagues that I could touch base with and people who were looking out for me and talking to me on a regular basis has been really supportive during the lockdown period' MDJV Construction Manager
---
Peer review
Fiona King

HS2

Fay Simpkin

HS2