Safe at Heart: establishing an inclusive and safe culture for our employees
The construction industry has a reputation for lacking inclusivity facing challenges such as the underrepresentation of women, BAME individuals, and LGBTQ+ employees. This paper discusses the approach taken by Balfour Beatty VINCI's (BBV) (joint venture collaboration with HS2 to deliver the main works civils contract for HS2 Area North) to establishing an inclusive and safe culture for its employees.
The text delves into the strategies employed by BBV to establish inclusivity and diversity as core values within the project. These strategies include the EDI (Equality, Diversity, and Inclusion) initiatives and the "Safe at Heart" behavioural programme. The Reverse Mentoring programme is explored as a means to foster understanding and collaboration between senior leaders and junior employees from diverse groups.
The paper describes the successful implementation of the "Roadmap to Respect" campaign, involving toolbox talks, engagement surveys, and a network of EDI Champions distributed across sublots. The engagement of the supply chain and the positive outcomes achieved are highlighted, including increased engagement scores and improved representation of diverse groups in BBV's workforce.
The document also provides valuable insights for future projects aiming to promote inclusivity and diversity. It emphasises the importance of clear messaging, well-structured campaigns, and collaboration between health and safety initiatives and EDI efforts. Overall, the paper showcases how BBV's comprehensive approach has led to a more inclusive and safer working environment, contributing to positive outcomes for both employees and the project.
Background and industry context
Balfour Beatty VINCI is a joint venture (Balfour Beatty and VINCI Group), working collaboratively in partnership with HS2 to deliver the main works civils contract for HS2 Area North.
The BBV team recognises that building an inclusive and diverse culture is a key part of establishing and developing a safe working culture on the project. However typically, the construction industry has a reputation for lacking inclusion:
Most of our industry is made up of white males, causing the workplace culture to be influenced by the majority view1
While women make up almost half of the UK's workforce, less than 15% work in the construction industry with less than 2% on-site1
BAME employees and employees with disabilities each make up less than 6% of our industry1
60% of LGBTQ+ employees have experienced homophobic terms when the industry standard of this community in construction is approximately 2% (the exact figure is still unclear)1
Keen to transform this traditional image of construction being a male-dominated sector characterised by a lack of diversity, BBV aims to push beyond industry standards and support staff who identify with one or more of the protected characteristics as well as those who do not, to establish an environment of employees who hold respect at the core of their actions. To achieve this, several EDI initiatives have been established, forming part of a larger strategic plan, some of which will be explored in this paper.
Approach
EDI embedded in strategy
The EDI programme wraps around and supports the HS2 programme values (Figure 1) and BBV's golden rules (Figure 2) along with the HS2 "Safe at Heart" programme as part of BBV's commitment to keeping everyone safe, avoiding harm and managing health so that a legacy is left for future mega-projects to follow showing every day that I care, You count and We matter.2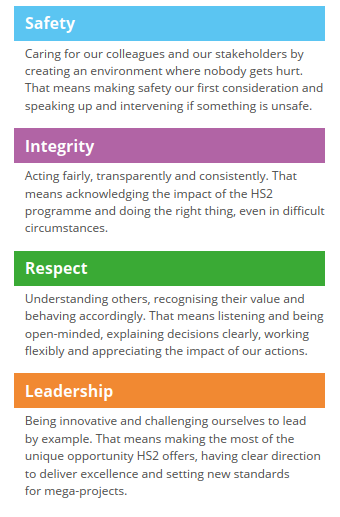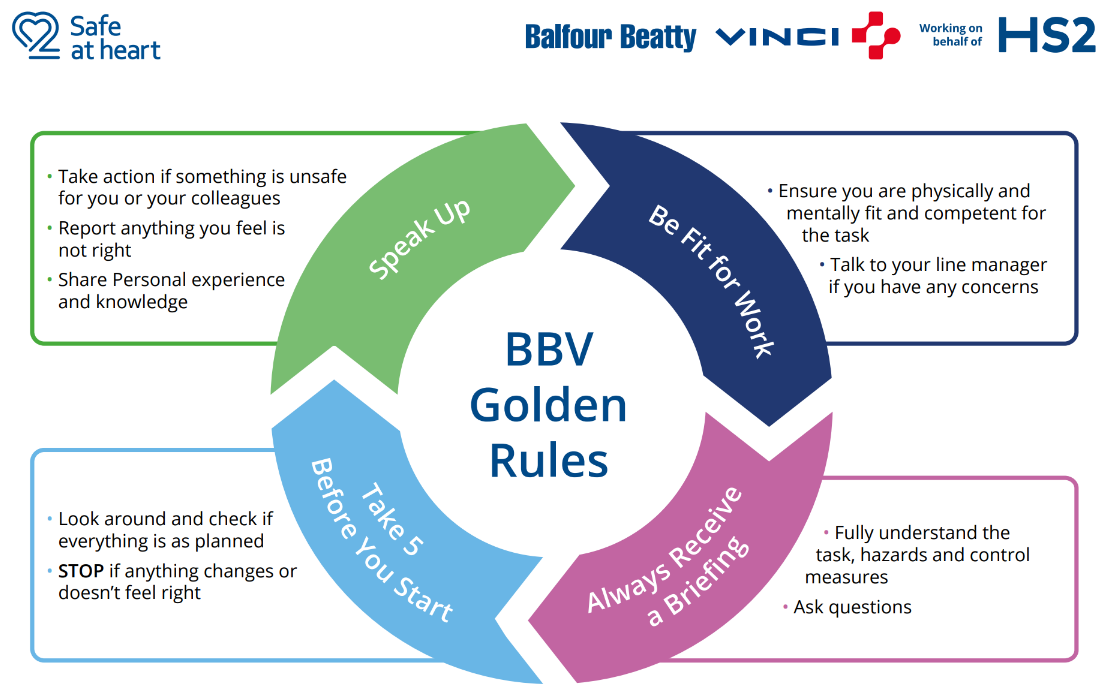 BBV developed its own behavioural programme – 'Safe at Heart' – to embed a health and safety culture in all aspects of the project, ensuring positive behaviour is kept at the heart of everything <insert ref to BBV Safe at heart paper>. The programme consists of six modules (Figure 3) and is made up of an eLearning experience, interactive engaging workshop sessions and filming working practices to identify best practice and opportunities for improvement. Inclusivity runs as the red thread throughout all modules, so that the EDI lens is forever present throughout.
​​​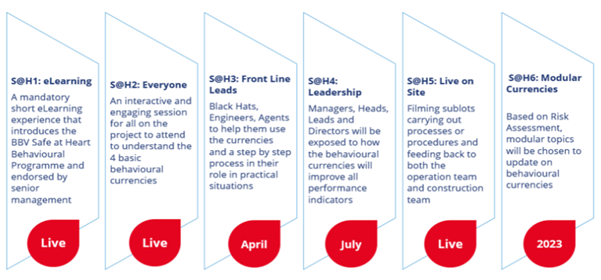 Through both EDI initiatives and Safe at Heart colleagues are empowered, engaged and educated to speak up, to call out inappropriate behaviours just like calling out any safety issues across the working environments.
Accreditations
In 2022, BBV secured two Equality, Diversity, and Inclusion accreditations – gold standard with Clear Assured and leader status with Disability Confident. This reflects the collective work that has been embedded into our EDI agenda. As part of the work entailed for these accreditations, demonstration was required of the continued foundational work that highlighted a safe, respectful, and comfortable working environment, where everyone can feel they can thrive.
EDI initiatives
As a project, numerous initiatives have been established which have contributed towards creating an equitable environment including:
Respect campaign (one of HS2's four values shown in Figure 1)
Reverse mentoring programme
EDI champion network
Supplier engagement and support
These initiatives are described in more detail below.
Roadmap to respect campaign
BBV's 'Roadmap to Respect' campaign was launched in June 2022, to over 700 colleagues on a live call, with an end of project lifecycle, whereby regular events and initiatives are programmed into our working days. It was vital to emphasise the power of respect and that the campaign catered toward every employee, promoting the notion of unity and allyship.
Supporting the growth of the campaign, a roadmap was established (Figure 4) in the planning stages to effectively track progress – this included the delivery of the EDI Toolbox Talks.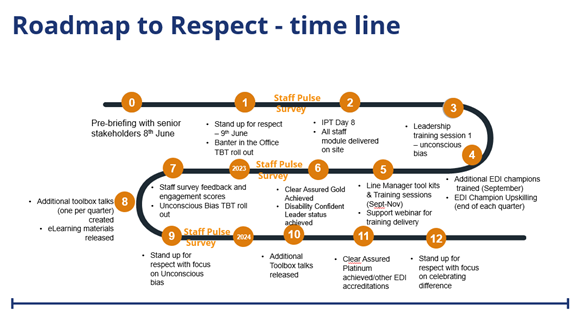 Banter in the office
As part of the launch, a 'Banter in the Office' Toolbox Talk <insert link to supporting document> was rolled out, which has been delivered to over 2,000 colleagues on the project, and was also delivered virtually to the client, HS2, as part of their Respect Values week. It was important to address the topic of 'banter' within the construction industry to:
communicate that harmless banter is encouraged and can provide for a healthy working environment.
emphasise that offensive language will not be tolerated under the guise of 'banter'.
educate on the difference between clumsy, inappropriate, and unacceptable language.
Bi-annual engagement surveys
Another element of the Respect Campaign was providing the opportunity to have the voices of an engaged workforce heard through the bi-annual staff engagement surveys, shared with over 2,700 employees. Since the introduction of the campaign, there has been a significant increase in the engagement scores, specifically for the diverse groups with a response rate of 90% compared to the overall engagement rate (combined workforce) of 84% in the December 2022 catch. There is a suggested correlation between the launch of the Respect Campaign and an increase in the wellbeing of our workforce as the majority have voiced feeling respected at BBV, implying that strides are being made towards the goal of establishing a safe environment.
BBV positions itself as a company that takes diversity and inclusion seriously, therefore the aim of the Respect Campaign is to build on this inclusive culture – BBV has 56 nationalities meaning many cultures, backgrounds and languages are spoken on the project that require respect. The Respect Campaign is used as the avenue to travel towards a culture which provides each employee a safe space where they can perform at their highest potential.
Reverse Mentoring programme
In September 2022, the Reverse Mentoring programme was launched which sees a senior leader (executive member) as the mentee being the mentored by a junior employee who identifies with at least one protected characteristic. This provides an opportunity for the senior leaders in the business to understand the experience of belonging to an underrepresented group – within the business and beyond. The idea of this programme is for both the mentor and mentee to work together to understand different perspectives and experiences, helping to build awareness of unconscious bias; sparking action to improve BBV's diversity. BBV aims to empower those from underrepresented groups, who make up a low percentage of the workforce. The aim is to remove barriers to improve diversity and to achieve this by understanding the experiences of employees from within those groups, by connecting those individuals directly to the executive team.
To gain initial interest, the internal communications team was utilised to issue a survey form via the internal SharePoint page where potential mentors had the opportunity to explain why they wanted to take part in the programme. The EDI team then reviewed applications with the HR Director, and mentors were chosen with the following characteristics in mind:
Belonging to at least one underrepresented group.
Genuine interest in reverse mentoring and the development of the BBV culture.
Understood the wider impact of the programme on our project.
When pairing mentors and mentees the strategy was to focus on differences over commonalities to allow room for building rapport within the mentorship. For example, choosing an executive member outside of the mentor's immediate team and direct report line – someone who'd be a new interaction. It was felt that the differences between them created an opportunity to explore unfamiliar topics for the mentor and mentee and created valuable conversations.
It was also understood that this mentorship would be an unfamiliar environment for most of the participants, as they would be leading the conversation, it was key to develop training that would help equip mentors to confidently build rapport. It was important that they felt comfortable and secure in being open during the sessions, so that quality conversations could unfold, making it worthwhile for both parties. Within this training session, mentors were trained on how to effectively building rapport, how to share their stories and how to structure their hour-long sessions (Figure 5).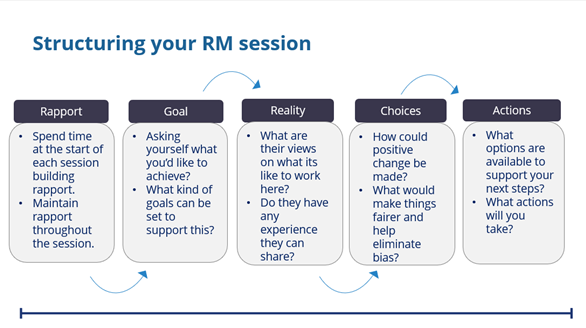 The objectives in setting up the reverse mentoring programme were to:
Spotlight employee's experiences as belonging to at least one diverse group
Enhance the executive team's understanding of said experience in the UK and within our business
Establish an actionable plan which brings tangible change and opportunities for the project's diverse groups.
Share case studies for other organisations to learn about the benefits.
The Reverse Mentoring programme has effectively opened communicative channels between BBV's executive members and other employees – in turn, encouraging a safe space where progressive change is supported. The overall wellbeing of the junior employees who have taken part in the programme has increased as they have grown in confidence, established relationships with more experienced members of staff and had a unique experience of learning about different areas of the business.
One mentor, in an extract from their case study, said:
"Being a part of the Reverse Mentoring programme has been a valuable outlet for myself and others to share our experiences as minorities working in the construction industry. We were able to bring to light what employees feel and experience at a lower level than themselves, an important insight into cultural development of the company and wider industry. After building rapport with my mentee, she was able to use her position and contacts to bring about real change to company strategy, targeting undesirable behavioural incidents, improving management strategies with a focus on young people and minorities, and giving meaningful feedback to the early careers network."
EDI champion network
The EDI champion network was created as a way for the EDI agenda to reach every working division on the project. Given the project spans 90km, with eight main sublots and 66 compounds, it was imperative that there were people based in each sublot who could advocate for EDI, deliver training, and support and appropriately signpost colleagues. Thus far, the Champion network has introduced a community feel which connects every sublot and is an effective way to communicate project-wide events and notices – the most effective form of communication has been found to be via Microsoft Teams on the project and so, an EDI Champion Teams page was created where best practice can be shared.
Additionally, EDI boards are strategically placed in communal areas which includes the images and contact details of the local EDI champions so that should a query/concern arise, the workforce knows who they can confide in.
It is recognised that being an EDI champion is a large responsibility for someone to volunteer for, therefore training is provided including an initial half-day training session which covers:
a basic understanding of EDI, including current legislation and real-life case studies from our business.
clarity of our own strategic plan – what we aim to achieve and how we plan to do so.
clear outline of the responsibilities as the sublot's champion – what it entails and how to manage concerns.
support that is available for EDI champions, should they require it.
Further training consists of quarterly upskilling and refreshers.
To date, there are over 50 EDI champions with at least one based at every sublot, project-wide. Prior to joining, it is ensured that Champions are clear on their roles and responsibilities before committing (figure 6). As previously stated, Toolbox Talks (TBT) were introduced as part of the launch of the Respect Campaign. Currently EDI champions are rolling out an Unconscious Bias TBT – BBV's internal EDI Partner trains the champions on how to effectively deliver a TBT and continues to support them through their planning and preparation stages.
The EDI champion network is open to all who are passionate about EDI, whether on-site or in-office, belonging to a diverse group or not. Ultimately, having an established network of passionate people with the same goal of an inclusive culture is one step closer to a safe space at BBV where employees can bring their 'true selves' to work. Overall, the wellbeing of the EDI champions has developed as a community of people has been established, from all areas of the business, broadening their network and building working relationships with people who have an aligned goal of establishing a safe and inclusive environment. Champions who would not normally be involved in the running of events are now building rapport with different colleagues to work collaboratively and delivering Toolbox Talks at various sublots – not just their own areas.
Inductions
The values are shared on day 1 with any new joiners. This is done via the IPT visa onboarding training which, being mandatory, requires everyone to complete. Through this training, Safe at Heart and inclusion and diversity are woven throughout which every member of staff gains that insight to begin with and completes as part of their inductions.
Incident monitoring
To make sure that Health and Safety and EDI are not seen as two separate areas, the ongoing monitoring of Health and Safety events/incidents on site are shared and investigated for any EDI related matters also. Incidents which are caused because of a lack of inclusivity need to have that proper investigation and appropriate action to be taken. To again help reduce such incidents, EDI advocates the Safe at Heart initiative with its stakeholders, and so we have seen over 4,000 colleagues attend already the behavioural programmes that are in place.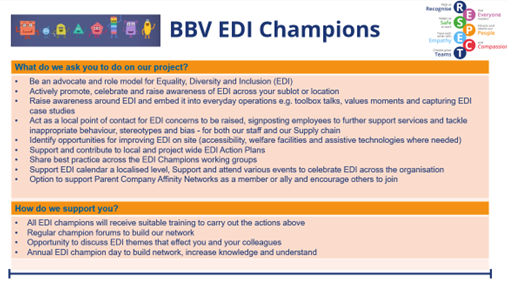 Supplier engagement and support
Of BBVs supplier community, Tier 1 suppliers (known as the Construction Family) play a vital role in furthering EDI initiatives and agendas across the project. To promote this, monthly meetings were set up, whereby each supplier had a representative to provide feedback regarding their organisations EDI journey to share successes and best practices. Additionally, this forum allows a true sense of collaboration to occur, as where challenges were apparent, each organisation can come together to offer support and share lessons learned. These monthly meetings highlight how collaboration supports positive changes in the EDI space and how collaborative effort can help alter the traditional image of construction being a male-dominated sector embodied by a lack of diversity.
BBV has EDI responsibilities such as data reporting and externally verified accreditations. These responsibilities are also embedded in the construction family's contractual requirements. These monthly meetings allow progress to be shared around each accreditation journey and to offer support to those who are beginning that journey or looking to progress further. While this is a contractual requirement, BBV offers continuous support to the construction family for such accreditations. This is not to state BBV would do it on behalf of another organisation, but rather share helpful materials and guide the supplier in establishing a safe and inclusive working environment. In addition to monthly meetings, each supplier can request a 1:1 meeting with BBV to discuss specific queries around EDI initiatives so that each supplier can further excel on their EDI journey, which has a positive impact on BBV (as the great work and success of said organisation can be highlighted) and the industry in return.
Collaboration is the key theme through all forums with the supply chain, highlighting a united front in establishing safe and inclusive spaces. An example of this was Birmingham Pride in 2022, BBV had a slot in the parade whereby the construction family was invited to contribute and participate on the day. Each supplier's involvement helped to bring this event to life, from vehicle hire, banners and t-shirts to sound systems and balloon arches. Colleagues from each organisation were invited and had their own logo printed on the back of the t-shirts – see figures 7, 8 and 9 below.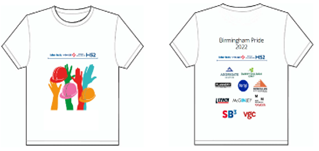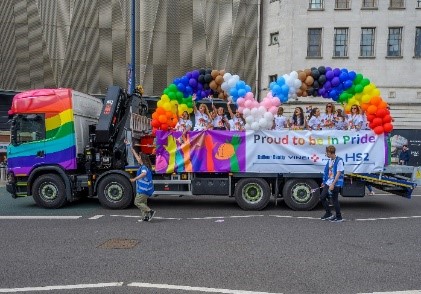 Outcomes
BBV's aim is to generate a safe space for its employees so that they feel they can bring their authentic selves to the project – the Respect Campaign has been instrumental in this progress since its launch. BBV has worked hard to develop the diversity and inclusion of its workforce with the results detailed below for Jan 2022 – 2023 (compared to benchmark data as reported by CIOB1):
27% – BAME population – compared to a construction industry benchmark of 6%1 and exceeding the HS2 target of 22%
25% – Women in BBV employee population – compared to 15% typically for those who identify as women in the industry1
7.1% – Declared disability of employees – compared to construction average of 6%1
5.6% – LGBTQ+ community in workforce compared to 2% in construction1.
These are BBV staff statistics and there is no differentiation between site and office staff.
In addition to this, through the Staff Survey which occurs bi-annually an increase in both engagement and scoring has been seen since 2021. Feedback from numerous surveys for Health, Safety and Wellbeing, including Inclusion and Diversity show that on average 85% of BBV's workforce agree that they feel respected in their working environment, and that they uphold the BBV values. Following on from such feedback all working environments are engaged with to celebrate the positives but also investigate deeper on areas of challenge/improvement, which are implemented through the 'You said, We did' approach. As a result of this, colleagues are seeing how the team are indeed bringing that further awareness, taking the feedback, leading by example to highlight how survey information and data is acted upon.
A community-feel has been successfully established which is exemplified through the EDI Champion network who have the capacity to reach employees on all sublots – whether on-site or office based – and provide them with necessary support, challenge inappropriate behaviour and communicate the united message that inclusion is for all.
The implementation of the reverse mentoring programme has allowed mentors to form connections with executive members, educating each other on different experiences and perspectives while raising awareness on real issues diverse groups face so that BBV can effectively support in the workplace. The supply chain continues its consistent growth in the EDI space as they are guided on their individual pathways of creating a business with diversity and inclusion at the centre – extending EDI best practice beyond just BBV but into the wider industry.
BBV has found that the implementation of an EDI agenda has had wider benefits for the business – not only does it create an environment that is safe, but there is a cost benefit of having an engaged workforce. Research shows that where people feel included and have a strong sense of belonging, they will perform better, work more safely, and stay longer. <reference required>
Learnings and recommendations
Equality, diversity, and inclusion is a collaborative effort therefore, we hope to support future projects in creating a safe environment for employees to flourish through our recommendations below. Ultimately, BBV has found that the implementation of an EDI agenda has had wider benefits for our business – not only does it create an environment that is safe, but we have witnessed the cost benefit of having an engaged workforce. Research shows that where people feel included and have a strong sense of belonging, they will perform better, work more safely, and stay longer 3
Campaign planning
When considering the launch of a campaign which holds a value, such as respect, at the core, it is important to consider your why? What do you hope to achieve and how will you achieve it? For BBV, the Respect Campaign had one clear, but large aim – to promote inclusivity and unity. As we began to introduce our EDI agenda prior to the campaign, we found that our majority population (white males) were feeling somewhat ostracised (they did not recognise how EDI includes them), consequently causing a sense of division. The team had to start emphasising that EDI only functions as a collaborative, not as a divisive too
Therefore, the messaging has to be clear – the respect campaign is for all. To track the success of the campaign, we recommend a plan, or roadmap as we named it, which allows for tangible outcomes to be assessed at each stage, determining how successfully the campaign is progressing, with improved employee experience in mind. The roadmap should be considered as a working document that you continue to refer to and alter as priorities change.
Reverse mentoring
The reverse mentoring programme requires much time and attention to achieve the best results and thus, you must assess who best in your project to oversee it and when best to launch it. Again, what is your why? What do you want to achieve by implementing the Reverse Mentoring programme to your organisation? BBV suggest starting with your area of focus – this involves honesty and transparency – which, if not all, of your company's diverse groups would benefit from the programme?
While BBV opted to include a member from at least one of the protected characteristics, other organisations have found success by focussing on just one – i.e., offering places to just colleagues of colour initially – but BBV wanted representation from all backgrounds as the starting point.
Ensuring your mentors are suitably trained and prepared can ease much of the anxiety that comes with the first session – we delivered a full day of developmental training which covered topics such as building rapport, how to share your story and how to structure your first session. Based on feedback from these sessions, our mentors preferred having reflective time during the session to focus on how to make the programme beneficial for both the mentor and mentee. Lastly, the pairings form the basis of how the programme will run – ensure you have attempted to pair mentors and mentees appropriately by considering if they already work together within the organisation, if they could find commonalities to build rapport, and what both hope to gain from the programme. Encourage your mentors and mentees to meet off-site, to remove the 'power' balance – this does make for more open and honest conversations, allowing both mentor and mentee to learn and grow from the Reverse Mentoring experience.
EDI champions
Becoming an EDI champion takes commitment and passion to the cause, which means taking on additional responsibilities to the day job – this must be transparent from the start.
To establish a successful EDI champion network, it is vital that you encourage the building of rapport for it to become a network – where champions can support each other, sharing ideas, thoughts, and experiences. At BBV, we provide networking time during our training sessions and promote the use of the EDI champion teams group to communicate with each other and share resources. As these relationships have progressed, our EDI champions have evolved to deliver Toolbox Talks together, even in different sublots to their own. Finally, EDI champions are there to support, advise, and signpost their colleagues on sublots and so making their faces known on sublots is important. Thus, we implemented EDI boards in common areas with local champion's images and contact details as well as EDI champion lanyards – across the project, an EDI Champion is identifiable through these elements.
Supply chain engagement and support
As a starting point to gain engagement from your supply chain, monthly meetings are advised. Consider how best to get the 'right people' to attend your meetings – such as, people who can provide both feedback on their organisation and deliver measurable outcomes. Organisations may not have dedicated colleagues for specific roles such as EDI, but BBV emphasised the benefits this has on the organisation for current employees and leaving a long-lasting legacy. As we progress, potential employees explore company culture and values, wanting reassurance that the organisation is a safe place to work. Through collaboration, sharing best practices, and collective goals (such as EDI accreditations), organisations can demonstrate their commitment. It is vital to hold suppliers to account, ensuring they are producing outcomes in the EDI space – BBV suggest providing suppliers with clear guidelines for their EDI journey:
a list of approved EDI accreditations.
supporting the implementation of EDI strategies.
compulsory attendance to pre-scheduled monthly meetings.
sharing training materials on EDI matters, e.g., unconscious bias, inclusive hiring, etc.
The ultimate outcome is about creating safe environments where people feel comfortable, confident and can thrive regardless in every sector.
Conclusion
Through the EDI agenda and as evidenced by the significantly higher EDI outcomes on the project than construction industry norms, the project is contributing to changing the face of construction and delivering a lasting skills legacy to the local area.
Two of the four core values are respect and integrity and the five-year Roadmap to Respect guides the training and engagement activity to support embedding these values at every level of the organisation.
In addition to this, with establishing an inclusive and safe culture, it is key to collaborate with H&S as people in this industry recognise that safety is always a top priority on any project. What people are starting to recognise is how having an inclusive working environment can lead to a safer working environment. People in any working environment should feel empowered to challenge inappropriate behaviours just as much as calling out any potential safety issues and/or hazards on a site. The intention of this paper is to present future projects with initiatives they can apply and implement into their EDI strategic plan, as well as seeing how health and safety collaboration plays a vital role in encouraging an inclusive and safe workplace.
Acknowledgements
The author wishes to thank all those who have contributed to the successful implementation of the Equality, Diversity, and Inclusion strategic plan which in turn, establish a safe space for employees at Balfour Beatty VINCI. These include:
BBV's HR Director – Lucy Jones
BBV's Head of Learning and Development and Head of EDI – Victoria Lovatt
BBV's EDI Partner (External) – Ben Hickman
EDI Champions of BBV
BBV's Mentors and Mentees of the Reverse Mentoring Programme
References
1 Building, C. I. (2023, January 5). Equality, Diversity and Inclusion. Retrieved from CIOB:
2 Langmead S, Farquharson D, (2021) Building and sustaining a health and safety brand that connects everyone to being Safe at heart.
3 Carr E (2019) The Value of Belonging. Available at: https://hbr.org