Supporting London's homeless community
Supporting the most vulnerable groups into employment is key to creating a diverse and local workforce. Homelessness is a key issue up and down the UK, and the majority of homeless people want to gain employment as the first step to creating a better future. CSjv and Buses 4 Homeless have delivered a successful pilot providing 2645 nights of shelter, 9400 hours of support, and changed the lives of seven people.
This pilot provides a successful blueprint for other construction sites to support homeless people back into work and into the industry.
Written by

Resource type

Intended audience

Contractors
Background and industry context
London has an escalating homelessness problem, with around 4227 rough sleepers in the capital from April to June 2020.[1] This marks an increase of 33% from the same period in 2019, and a 63% increase from 2018.[1] Around 144 homeless people died on the streets of London in 2019, which was more than in any other region of the UK.[2] Around 88% of people have jobs before finding themselves homeless and the majority want to find work again.[3] However, they often face complex barriers to finding and staying in employment.
The Enabling Works Contract (EWC) on the southern section of High Speed Two (HS2) phase one includes the demolition of buildings within the wider Euston area, utility diversions, environmental and ecological monitoring and a programme of historic environment and archaeological activities, delivered by the Costain Skanska joint venture (CSjv).
Based in Euston, the project team have seen first-hand the devastating effect of rough sleeping, with many people sleeping beside hoardings or around the station area directly surrounding the worksites. As a result, the team decided to focus their attention on supporting these people, whether it be to provide them information on shelters, make local authorities aware of them or support them into accommodation and employment to create a better future.
Charities and social enterprise partners that work directly with those who are homeless were identified so the team could provide assistance in supporting those who needed it the most, by offering opportunities to upskill, gain confidence and gain long-term employment on the project.
Buses 4 Homeless pilot programme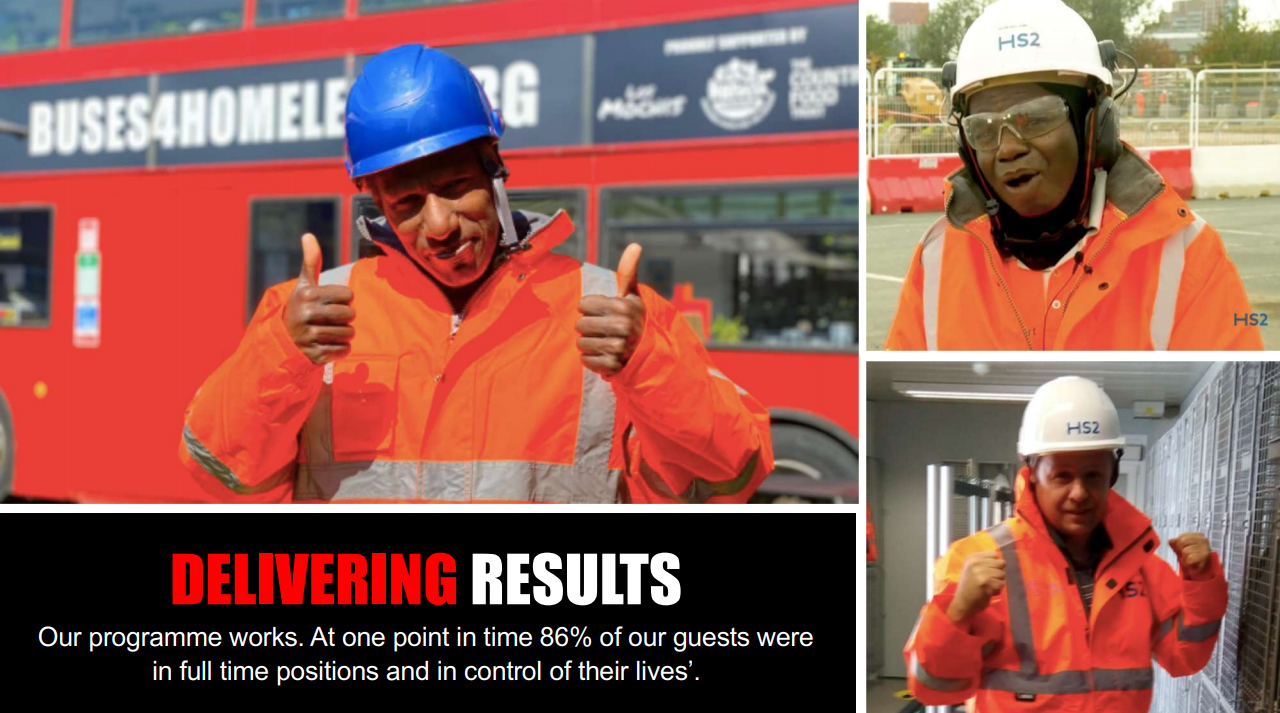 As part of their commitment to supporting homelessness across London, CSjv began working with Buses 4 Homeless (B4H) in 2019, a new social enterprise which has created a low cost, holistic solution to homelessness. B4H refurbish decommissioned London buses and turn them into spaces for eating/cooking, sleeping, wellness and learning.
Often people who are homeless find themselves in a vicious cycle of not being able to work due to having no permanent fixed address, but also not being able to get accommodation due to not having a permanent income through work. The purpose of the B4H programme is therefore to provide people with a roof over their heads so they can work to get back on their feet and re-engage into independent living without the worry of where they are going to sleep that night.
The B4H programme is based on a 3-month intensive programme which:
Helps to identify and overcome the issues that lead the guests to being homeless in the first place.
Provide them with shelter, warmth, regular meals and the amenities they need for everyday living.
Works with the guests to set up key things such as bank accounts and medical care, which they might not have had for a long period of time.
Support the guests in learning key soft and vocational skills including employability skills.
Help secure employment, apprenticeships or set up their own businesses.
Re-engage them back into the community through housing, support, and ongoing mentorship.
The first pilot programme began just before Christmas in 2019 and was delivered on the CSjv site at Braitrim House in Acton. The CSjv team provided site set-up, including moving the guests in, providing safe and secure hoarding, and secure access onto the B4H site, as well as supporting the writing and signing-off of all health and safety risk assessments and policies. CSjv also provided Wi-Fi, mains water and electricity supply as well as general maintenance for the duration of the pilot.
The first programme saw seven homeless people referred to B4H through Local Authorities, food banks and charities. The needs and the support required for each individual was very different and so the B4H spent the Christmas period getting to know each of their guests on a personal level before embarking on the 12-week intensive programme. Over the course of the following months, with the support of B4H, guests started to grow and come out of their shells. They underwent counselling, alternative therapies, saw medical professionals to rectify any health concerns, and most of all they became a family.
Over time, CSjv introduced the opportunities for employment to the guests who were ready to take the next step. Some of the supply chain visited the B4H guests, discussed what their interests were, where they would like to work and any concerns they had. Those that wanted to work in construction were given the opportunity to undertake their CSCS test and and all passed the tests with 100% success rate.
As a result, five of the seven guests gained full time employment, with four of them directly working on the HS2 project. One guest in particular has impressed his employer so much that he has been offered an opportunity to undertake an apprenticeship and is on his way to gaining further qualifications in a role he didn't think was possible a year ago.
Positive outcomes
Since the start of the pilot programme, B4H have delivered 2645 nights of shelter and 9400 hours of support, cooked 10,580 meals, and changed the lives of seven people.
The B4H programme is a programme that not only provides immediate short-term support, but they spend their time working at a pace that works for the individual to help them get back on their feet and into a position, so they never find themselves homeless again. Not only has the project found full-time employment for most of their guests, it has also secured permanent housing for all seven – something none of them thought was possible.
Lessons learnt and successes
The B4H programme was the first of its kind and new to an organisation like CSjv. However, with the knowledge and experience of B4H and the skills and resource of CSjv, the pilot programme was able to be pulled together in a short space of time.
The main challenge faced during the pilot programme was the COVID-19 pandemic. It meant that, only a few months into the pilot, the delivery and the duration had to change dramatically. The programme continued but with a huge level of restrictions on what B4H were able to do and who they were able to have visiting the site. Nevertheless, despite these challenges, the success of the programme and the outcomes presented above, CSjv and B4H were able to continue supporting the guests into independence.
Recommendations
This pilot was a first of its kind, however it has proven to be a successful blueprint for other construction sites to support homeless people back into work and into the industry.
Acknowledgements
Frankie Jones – Skills Education and Employment (SEE) Manager
Bryan Williams – Senior Works Manager
Mark Wotton – Works Manager
Aidan Marchetti – Senior Site Forman
Hatton Traffic Management Ltd
VGC Group
Danny Sullivan Group
References
[1] Greater London Authority. Third more rough sleepers on London's streets in lockdown [press release]. [internet]. 2020 Sept 18 [cited 2021 Sept 22].
[2] Greater London Authority. Data shows 144 homeless people died on London's streets last year [press release]. [internet]. 2020 Dec 14 [cited 2021 Sept 22].
[3] Crisis. Benefits and Employment. [internet]. [cited 2021 Sept 22].
---