VR 360 changing HSEQ training delivery and perceptions
Within the construction industry, everyone is having regular inductions, RAMS briefings, safety step ups, Toolbox Talks etc. It is evident that before they even attend these sessions, for many there is negativity and a feeling of "heard it all before".
Buckingham Group Contracting Ltd (BGCL) researched both the workforce and supply chain to understand these issues, through engagement sessions and workforce surveys. From these sessions the team worked with behavioural safety experts and reviewed various paths to improve the engagement and "buy in" from those who work on our projects. The one technology that stood out was Virtual Reality 360. The Service Strike VR training produced using the VR360 technology led to a 50% reduction in utility and service damage across all sectors.
This paper will be of interest to projects looking to explore new methods of HSEQ training through virtual reality technology
Background and industry content
Throughout the construction industry, utility damage is a constant concern. A lot of work has been done to reduce or eliminate this issue, by additional training, using modern locating equipment, use of equipment such as Vacuum excavators etc. However, during incident investigations, it was found that the workforce were engaging with the normal delivery of onsite briefings / toolbox talks, HSEQ stand downs / step ups etc, but the HSEQ messages were soon forgotten. This was a significant Root Cause that had to be tackled.
Approach
Through 2017 it was recognised that there were ongoing issues with working around live utilities, which resulted in near misses or actual service damage, and there was an upward trend. A review was instigated of primary and root causes which identified the need for additional training, refresher training, supervisor assessments, updates to the safe working procedures and to the Permit To Break Ground. Throughout 2018 there was also more on-site engagement with the direct and supply chain workforce. These actions resulted in a short-term improvement, however by the end of 2018 poor working practices around services were starting to re-appear.
A further review of incident investigations identified that the actions put into place previously, were being carried out, however the frontline supervisors and operatives were becoming "saturated" with the Toolbox Talks / Briefings / Safety Step-Up's and they were disconnected from the delivery methods. This led the team to look beyond what was readily available "off the shelf" and to consider new and emerging technologies. The following options were reviewed:
Augmented reality – this was of interest, but due to the scenarios being animated, it lacked the impact of a real-life setting. It was recognised that it may be useful for machine / plant familiarisation.
Machine-mounted technology – this included proximity sensors / cameras / safety zones. These were recognised as good additional controls and aids in assisting in safe working around plant, however it is very specific to work zones and doesn't incorporate other levels of management or disciplines.
3D modeling – this is a rapidly evolving technology and has many uses, primarily in allowing staff and workforce to picture earthwork modelling, service location, site set ups etc. This helps in avoiding service damage, raising work location awareness and can make service plans easier to understand. However, in the context of training and delivery it was seen as an additional on-site aid, rather than a training tool.
Virtual Reality 360 videos. Extensive investigation and trialing led the team to agree that the VR360 video was the most effective delivery format and at the beginning of 2019 we committed to purchasing the hardware and the commissioning of a Service Strike video.
The capital cost of the VR360 video solution was around £25,000, however the costs were fully understood, as the costs involved with any damage or personal injury incident could far exceed the VR capital cost.
From the initial order a training film was developed which was storyboarded by the team, to allow it to align with the company HSEQ Strategy Focus points and cover more than one topic. The video was filmed on one of the live projects using direct employees and plant. This added an element of authenticity which would have been difficult to achieve with actors and non-construction people.
Following on from the filming, there was a production period of 4 to 6 weeks, during which time, the HSEQ Advisors were trained on the use of the training headsets, tablets and software.
The training delivery currently allows 8 attendees to be trained and requires a training room / meeting room with 8 swivel chairs. Prior to the video being shown, each person is given a quick questionnaire on the specific topic, previous training feedback and site controls. This is then reviewed at the end of the session to assess effectiveness and get feedback.
The delivery is via a VR headset which is fitted with a mobile phone and the session is controlled via a tablet / I-pad. The attendees are in swivel chairs, as this allows the attendees to move / swivel around and this assists in the 360 degree experience.
Following the initial project roll out and delivery, the training was delivered onto the HS2 projects and it has been delivered to the direct workforce and staff, supply chain and Tier 1 Partner staff. This has led to some Tier 1 contractors looking into developing joint videos which will be HS2 specific.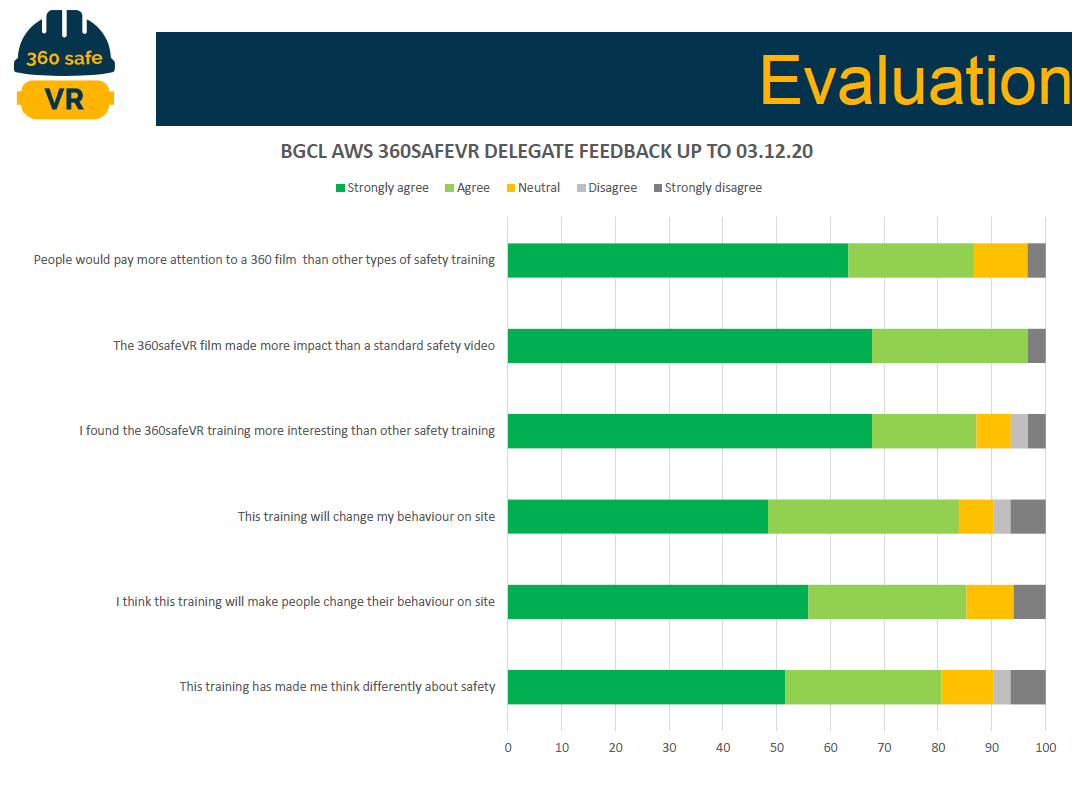 Attendee feedback
66%had never experienced VR previous
84% stated that the training will change their individual behaviour on site
81% stated that the training had made them think differently about safety
97% stated that the 360safeVR film made more impact than a standard safety video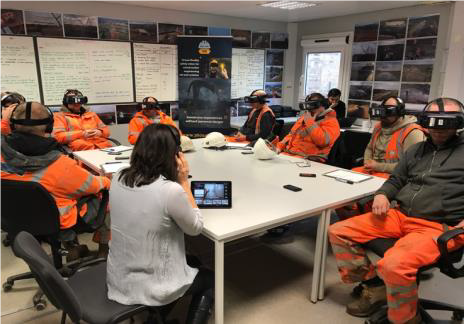 Lessons learned and successes
Since the VR 360 introduction in 2019 there has been a 50% reduction in utility and service damage. Following the VR training there has been a significant increase in people giving positive feedback, a genuine enthusiasm for the sessions, with many asking for more training. The VR format allows the session to be delivered to a broad audience including pre-construction, commercial, support staff, delivery teams and Clients.
Recommendations
Open discussions are encouraged with all levels of the project delivery teams and supply chain, to discuss traditional methods of HSEQ training / briefings and ascertain if people think it is time to change the methods.
It would be useful, if possible, that a VR360 session is attended to fully understand the immersiveness and impact of this type of delivery.
If HS2 specific films were produced, they could be used on the projects, however, as a legacy they could be made available for the supply chain and wider construction industry.
Acknowledgements
Feedback and Evaluation statistics were gathered by Dr Shelley Stiles.
---