Capturing operational lessons learnt through focused workshops
This paper shares a good practice approach to capturing lessons learnt from work packages which has been used effectively and matured by the Enabling Works Contractor on the southern section of High Speed Two (HS2). It is relevant to others working on complex projects or programmes of work where commonalities in learning can be captured and analysed.
Each work package undergoes a lessons learnt workshop which gathers key people involved in the package from multiple organisations and enables the experiences on the package to be debated and captured. The structure of the sessions allows each attendee to vote on what they think are the most significant areas of learning which highlights the most pertinent issues the package faced.
The arrival of COVID-19 did not hinder this initiative and a virtual workshop format was quickly developed and rolled out which has continued to be a success.
Written by

Resource type

Intended audience

Contractors
Leadership Teams
Public Sector Clients

Tags
Background and industry context
This learning focuses on the Enabling Works Contractor (EWC) for the southern section of High Speed Two (HS2) phase one, which includes demolition of buildings within the wider Euston area, utility diversions, environmental and ecological monitoring and a programme of historic environment and archaeological activities, delivered by the Costain Skansja joint venture (CSjv).
Learning from project experiences is essential to continual improvement and any successful organisation, but the processes to do this can traditionally be inefficient and limited in the value they eventually add. Experience shows that this is because learning is captured by a small and narrow group, after the event, which makes it difficult to draw out granular detail, identify trends and transfer the learning to others.
The Enabling Works Contract South (EWC South) is a geographically spread, diverse programme of works comprising of around 80 projects (work packages or WPs) that are progressively assured and completed over a five-year period. This has afforded the team the opportunity to learn from experiences and implement changes to processes with agility as the programme has progressed.
Recording of lessons learnt is a mandatory requirement of the Works Information (WI), and there was the risk that a huge amount of content would be captured without a plan for its dissemination. The EWC created a framework to comply with the WI to maximise output, but also established an environment where this learning was analysed and transferred in a way to enhance the value of the outcomes.
Approach
The approach deployed on EWC South was an enhancement of the business-as-usual methods from the joint venture parent organisations – Costain and Skanska, by seeking ways to maximise delegate involvement and ensuring the output was in a format that lends itself to be transferred and used by others.
Preparation for workshops
Preparation sessions were held by the project manager including the key delivery team members, the Handover Manager and the Lead Design Team to develop the format and ensure the maximum value was gained from the process. This also ensured that the appropriate people were selected to attend or contribute remotely. The aim was to include all delivery and technical disciplines involved in projects, including suppliers, the contractor and the client, and in some cases, key stakeholders such as third parties or follow-on contractors.
A typical challenge to securing people's attendance at lessons learnt workshops is that they are held towards the end of the delivery phases, when much of the team has moved on to other projects. To engage those unable to attend the workshops, invitees were given the opportunity to contribute from afar by means of advance submissions. Delegates were sent advance submission sheets to complete should they be unavailable.
As an example, the lessons learnt exercise run for the Granby Terrace Bridge Design project yielded a total of 13 lessons learnt submitted in advance of the workshop. This allowed the views of absentees to be presented along with other findings to add value to the process as a whole. Advance submissions are anonymised where possible so as not to influence the consensus of the group – submissions from someone known to be at a senior (or junior) level in status may be subconsciously given more (or less) weight by attendees.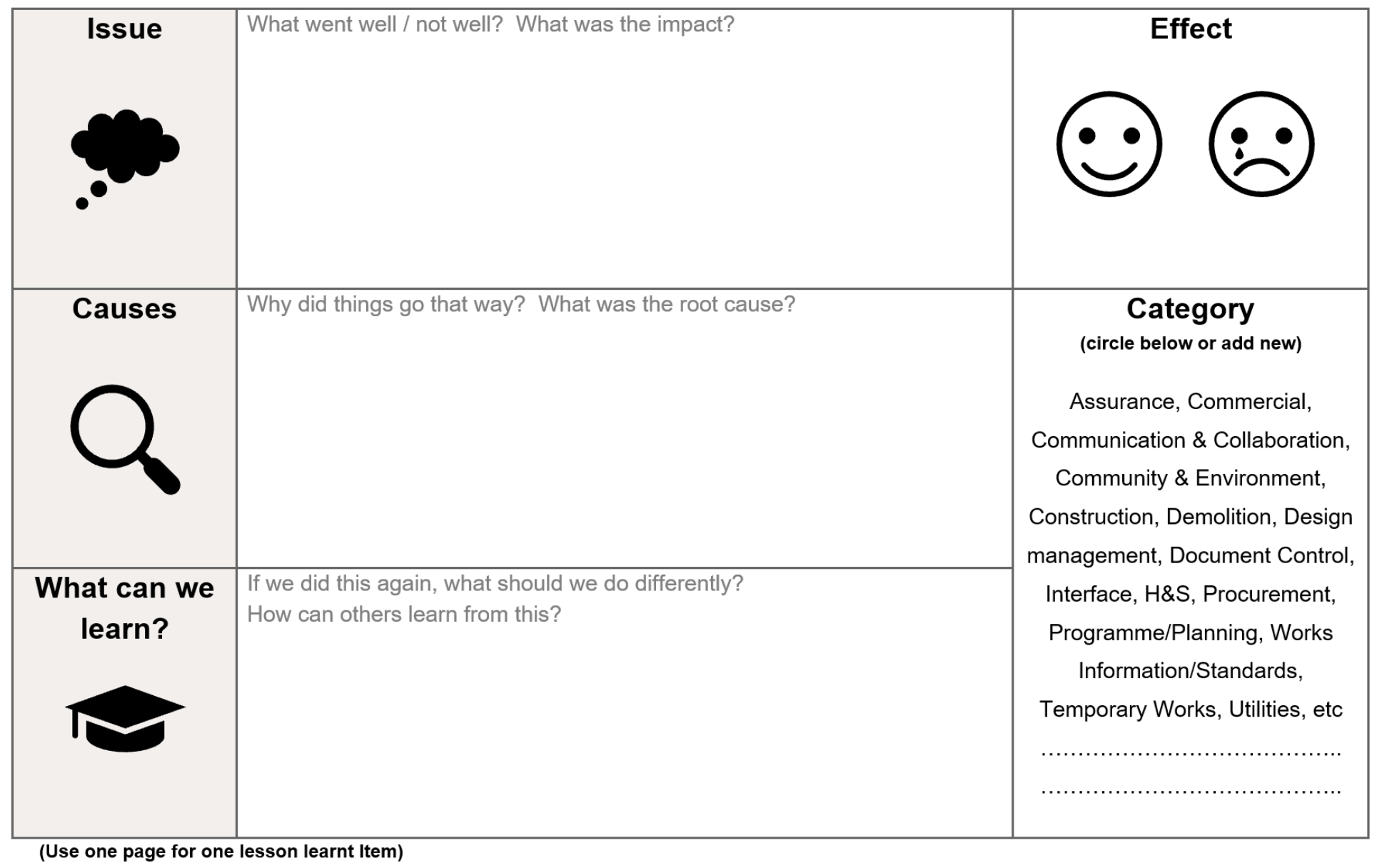 The sheet in Figure 1 also offers a good basis to record lessons brainstormed in the workshop and collate ideas together. They can then be easily categorised and pinned to the wall for the 'sharing' and 'voting' steps of the format, detailed below.
Workshop format
The workshops usually comprised of a half-day session (three hours). After an initial summary presentation outlining the background to the project and purpose and format of the session, the workshop-proper was conducted in a three-step process, as follows:
Brainstorming of lessons learnt in groups of 4 or 5, allowing small, diverse groups to openly discuss their views on issues, causes and what can be learnt.
Sharing of lessons and discussion with all attendees and lessons grouped into categories. Through soap-box summaries, each sub-group briefly presents their output to the wider group, allowing for discussion and combining of ideas.
Voting individually (3 votes each) to expose the most important lessons learnt to the cohort. Each delegate votes for their top lessons learnt, which demonstrates consensus from the group as to which lessons, or areas of learning are most important.
Workshop output
The output from each workshop is collated into summary reports and issued to the client for information and used internally by CSJV to continually improve processes.
The lessons learnt items from every work package are stored centrally on a SharePoint schedule which allows the Programme Management Office (PMO) team to analyse trends and use this analysis to improve processes.
The following output information is captured for each lesson on the initial registers and on SharePoint:
Item reference
Description of Issue (what went well/not well? what was the impact?)
Category or technical/organisational discipline
Lesson Effect (what was the effect of the lesson?)
Causes (why did things go that way? what was the root cause?)
Significance (how did this impact the project? as voted-for by the project team)
What can we learn? (how can other learn from this?)
Actions for success (what specific actions are there?)
This programme-wide lessons learnt register and trend analysis is communicated to internal work packages and other HS2 follow-on contractors where appropriate. Trend categories are included in Figure 2, and examples of root cause trends include but do not need to be limited to:
Lack of suitable resources
Poor/good planning
Poor/good communication
Poor/good collaboration
Poor/good management
Lack of technical support
Poor/good process awareness and compliance
An extract from the programme-wide lessons learnt register analysis is included in Figure 2, which draws out categories of learning in both positive and negative submissions.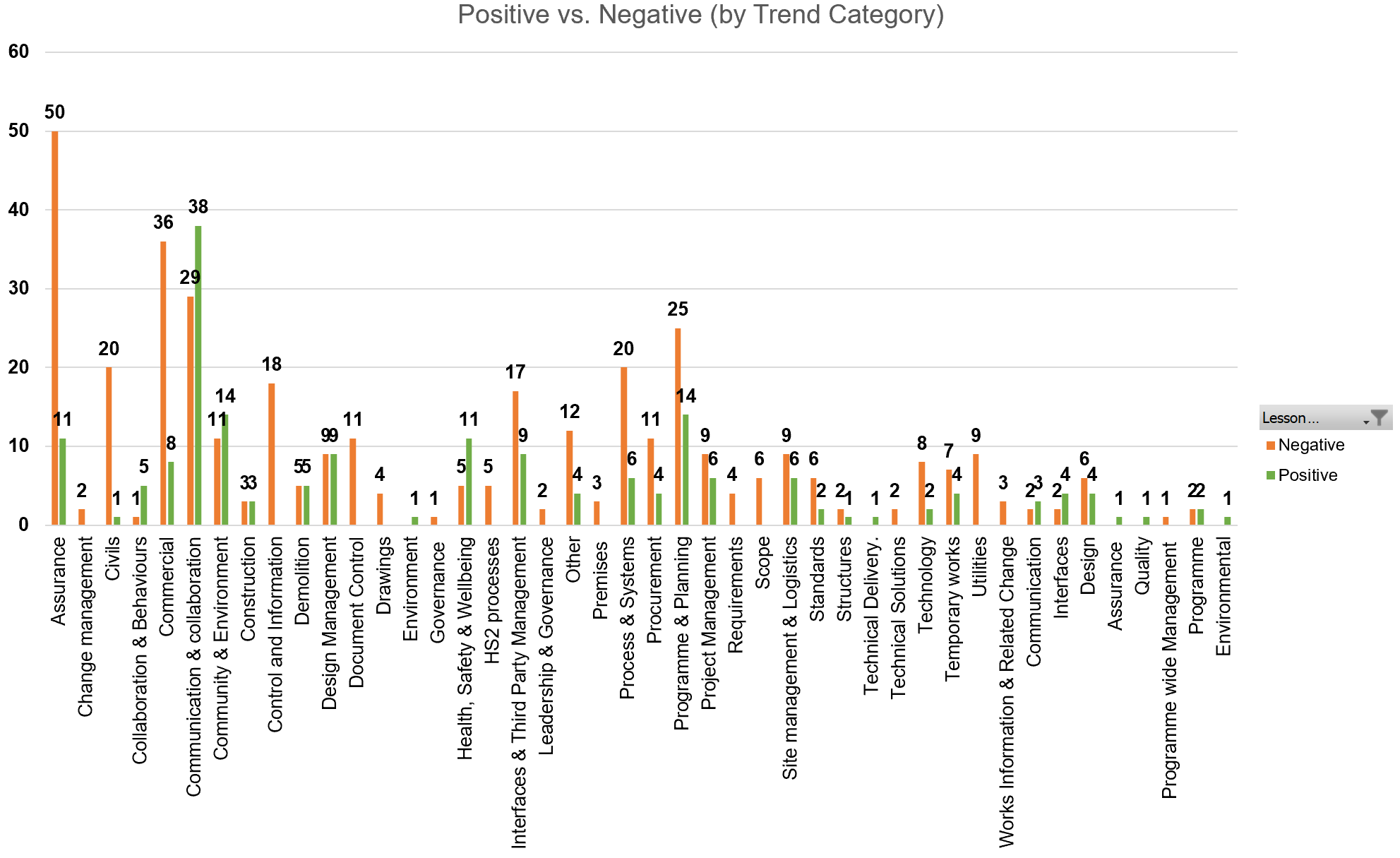 Outcomes and learning
The key outcome of this approach is that lessons learnt are formally captured from each work package, disseminated to the appropriate parties and follow-on contractors and logged in an overall register for the programme allowing for detailed trend analysis and identification of themes. Subsequent work packages and follow-on contractors have pertinent learning well communicated to them to ensure they build on the experiences of this programme.
This approach and subsequent specific recommendations outline how large-scale programmes of works can industrialise the capture of lessons learnt in a consistent way that continues to add value throughout the duration of the works through handover.
The EWC South team generated a huge volume of lessons learnt entries on the main register, amounting to over 600 items for the first 50 work packages completed, that have been disseminated and taken on by other teams and projects. When approaching the end of the programme, however, the team learnt that the register itself needs to be closed and handed over as an entity to HS2 as the programme of works culminates.
To accommodate for this, in addition to the trend analysis and processing, a cover report is being produced to allow future projects to navigate the register of learning from the EWC South programme and find what they need from what would otherwise be a register of raw data from workshops.
Recommendations
Strong facilitation is key to workshops being a success. Stringent planning, communication and preparation is essential for the workshop to generate the maximum value-adding learning to share. This needs engagement from the project manager or appropriate delegate in support of technical disciplines.
The format of lessons learnt workshops was adapted in response the COVID-19 pandemic to be held completely remotely, and it is recommended that hybrid workshops (remote individuals or groups of individuals joining via video conference to the main physical site of the workshop) should be planned for as standard to maximise attendance and subsequent diversity of thought. The team produced notes and suggestions for facilitating a workshop virtually at the start of the pandemic restrictions to maintain momentum and engagement in workshops. This guide is included as supporting information to this paper.
It is recommended to allow for networking and sufficient break times in the workshop agenda. For many delegates the workshop may represent some closure to their personal involvement in the project, and also act as a reunion of sorts with colleagues. Allowing people to reconnect is important to foster creativity, honesty and collaboration during the workshop, so this time should be allowed for and encouraged. Arranging a working lunch or tea helps with this, as well as organising an 'off-site' venue away from the office to remove distractions and maximise engagement.
A plan is needed for how the 'raw data' from the combined lessons learnt workshops from a complex and diverse programme of works (such as EWC South) is drawn to a close and handed over.
Acknowledgements
Rupesh Patel – Handover Manager, CSJV
Supporting materials
Facilitating a Microsoft Teams workshop – notes and suggestions (pdf)
Template – lessons learnt workshop postcards (pdf)
---