Raising standard of lifting operations across smaller contractors
Summary
In order to raise the standard of lifting operational practices and awareness of lifting plans by smaller contractors on the central section Enabling Works Contract, an all-encompassing lifting pack was produced with a pictorial guide showcasing each plant with lift plan and requirements. This pack advised SME's and sub-contractors what information is required in RAMs and other supportive documentation.
The pack was made available to the team on site via all notice boards, office walls and within canteens to allow all personnel to be aware of the lifting requirements on their respective machines.
The lifting pack and reflections on its implementation are shared as a learning legacy for future projects to make use of when developing their procedures and communications for lifting operations.
Written by

Resource type

Intended audience

Contractors

Tags
Background and industry content
This learning is presented as part of the works to deliver the Enabling Works Contract (EWC) on the central section of High Speed Two (HS2) Phase One, delivered by Fusion joint venture (Morgan Sindall, BAM Nuttall, Ferrovial Agroman)
The scale of the major infrastructure project that is High Speed Two (HS2) implies a higher standard in delivering services and products. SME's and sub-contractors may experience for the first time the opportunity to deliver as suppliers at such scale and may not have satisfactory standards. While some were producing inferior lifting plans that did not meet Fusion standards[1], LOLER 98[2], ACOP standards[3], British Standards[4] and industry best practice[5]. Throughout the project, the team has been working in collaboration with the supply chain to improve such requirements. Many observations highlighted that a simple approach was required to enable the contractors to reach a suitable and sufficient standard to enable them to understand what was required and produce suitable lift plans.
Approach
LOLER 1998 Regulation 8y[2], requires that all lifting operations are properly planned by a competent person, appropriately supervised, and carried out in a safe manner.
Many of the smaller contractors, and some medium contractors, were not aware of the regulation, therefore the lifting operations were not being performed to standard creating some safety concerns.
Once this issue was noticed, early engagement with new and existing contractors was the way forward. All started, with regular site meetings, team meetings and face to face page-turning exercises being the focus.
During those meetings, it became clear very quickly that there was a lack of understanding of what machines required a lift plan, what details a lift plan must contain and the appropriate competency required for both planner and operator.
Therefore, the solution to improve the lifting operations was to design a lifting pack including all the lifting and plant standards, blank lift plan template and any relevant information required. Standards recognised to be heavy in requirements and not an easy read. Hence a pictorial guide was produced to communicate at all levels of personnel. It displays what machines required a lift plan, what other documentation was to be produced, whether it required reviewing by Fusion, the level of supervision and the competency requirements for all persons involved within the lifting operation. All approved by Quality control and was allocated a QMS number. Figure 1 below
The Lifting Operation Standard was then distributed to all contractors across the whole project. It is now an integral document on all site notice boards, canteen walls and site office safety data walls.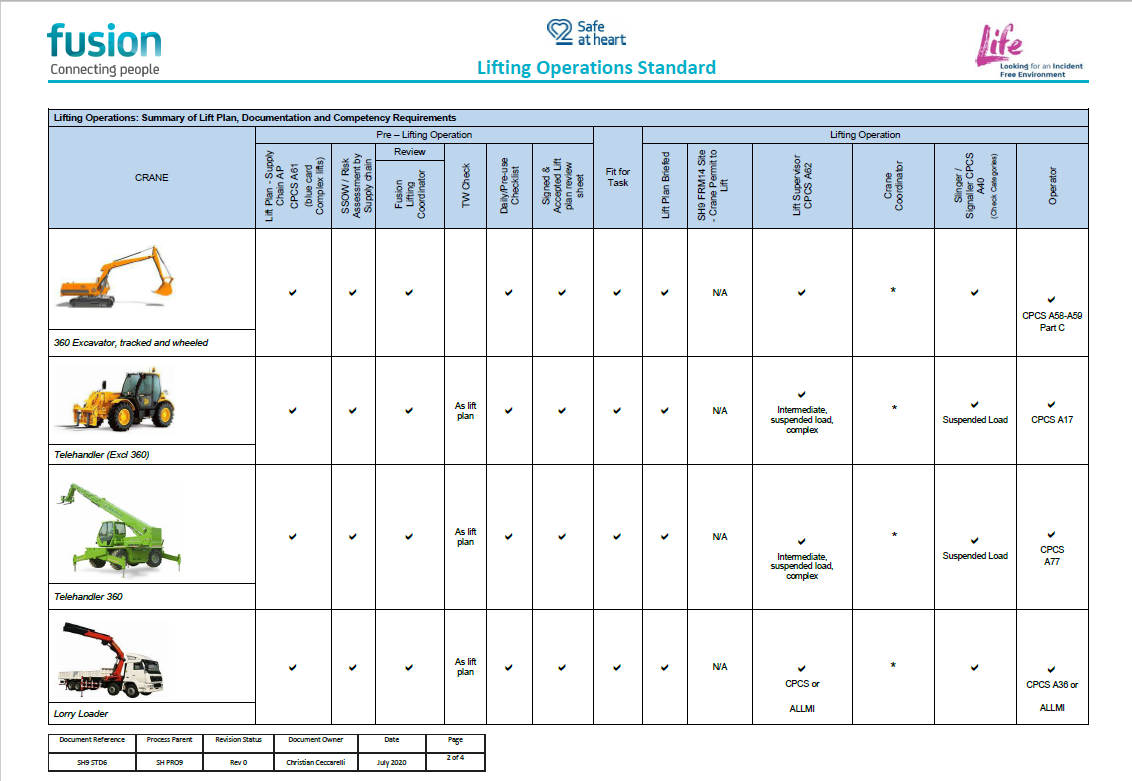 Lessons learned and successes
The initial reaction was mixed, with some contractors not wanting to follow the procedure as it was something not part of their requirements on previous contracts.
Uplifting contractors' skills and knowledge was something the team wanted to assist with but was nonetheless a challenge. Most realised that it was a legal requirement and would bring them many benefits in procuring future work.
The upside of the procedure was to bring all lifting operations together under one standard and ensured that a level was attained by all contractors. It was seen by the contractors as an aide memoir for their site teams as well as management and was an added guide for pricing work correctly.
The downside to this exercise, was the number of contractors involved, not having the resources to plan the lifting, and the number of operators not matching the competency requirement and certifications. Logistical issues were also aggravated by the COVID-19 pandemic, but well overcome by most contractors. Certain areas of the work being done by Fusion were historically not seen as 'construction' but as agricultural and forestry, and these contractors found the requirements more onerous than most. With the simple pictorial standard, they have embraced the requirements and have worked well to attain the required standard.
Recommendations
Early engagement at pre-start meetings and good communication is essential to allow the contractors to digest what is required and to enable them to have all documentation in place. An understanding of competency requirements on projects is a must, and this must be given to the contractors early enough to allow them to get the correct personnel, or up-skill their existing workforce.
Acknowledgements
Neil Crowe-C1, C2 South & Central Lead Supervisor
Sam Robinson-Works Manager
References
[1] FUSION: SH9 STD1-Lifting Operations
SH9 STD2-Lifting Operations (Excavators, Tele-Handlers, Lorry Loaders) Standard
SH9 STD6- Lifting Operations Standard
[2] HSE: LOLER 98: Regulation 8(1) & Regulation 8(2)
[3] ACOP: L113-Safe Use of Lifting Equipment
[4] British Standards Institution. BS 7121-1:2016 Code of practice for safe use of cranes – Part 1 General.  
British Standards Institution. BS 7121-3:2017 Code of practice for safe use of cranes – Part 3 Mobile Cranes.        
British Standards Institution. BS 7121-4:2010 Code of practice for safe use of cranes – Part 4 Lorry Loaders.
[5] Industry Best Practice: CPA-ALLMI-Guidance on the Safe Use of Lorry Loaders: 2010
CPA (SFPSG)-Guidance on Lifting with Excavators: 2018
CPA (SFPSG)- Safe Use of Telehandlers in Construction: 2015
CPA (SFPSG)- Guidance-Lifting Suspended Loads with Telehandlers: 2014
---